Below you will find my top tips for things to do while painting Warhammer Miniatures.
A lot of my painting does not require my complete attention. This is obviously so for the bulk painting of basecoat, but also when I remove mold lines, glue miniatures and when I do simple basing.
This means that I can do something else to make the progress a little bit more fun or so that I feel more productive while painting. I have spend a lot of time figuring out things to do while painting and these are my 18 top tips.
Affiliate link disclosure

Age of Miniatures is a participant in the Amazon Services LLC Associates Program, an affiliate advertising program designed to provide a means for sites to earn advertising fees by advertising and linking to Amazon.com.

Affiliate links might occur on this page.

This site also takes part in other affiliate programs and we are compensated for referring traffic and business to these companies. Read more about our affiliate links here.
1. Watch Lord of the Rings (or other great movies) with commentary on
I find that movies I have seen before are great for rewatching while painting. You know how everything goes, so you won't really be too distracted by the action sequences or the dialogue.
What more, it is a perfect opportunity to watch movies with the commentary track on.
The commentary track is mostly the actors or people from the film crew talking about the different scenes while the movie is rolling. The sound from the movie is a bit lower than normal, so this is not great if you have never seen the movie before. The commentary will give you some great banter from your favourite artists regarding movies you love, all the while you are painting miniatures!
The Lord of the Rings Trilogy works great for this. It will get you in the spirit of painting some Age of Sigmar models.
Seeing the whole extended trilogy will take 11 hours and 32 minutes. Seeing it again with all four different commentaries will give you about 57,5 hours of premium entertainment while you paint. Hot damn!
On Youtube

you can also find some commentary tracks you can play while you watch different movies.
2. Listen to audiobooks
Most of the stuff you can watch while painting you actually don't watch, you just listen. It comes as no surprise that listening to some audiobooks while painting is a great way of getting those pesky horde armies painted.
I personally listen to a lot of stuff from Audible (Amazons audiobook system). Signing up for a free trial will get you two audiobooks for free, and I dig the system they have where you get credit for one audiobook pr. month as a subscriber. Some of my favourites audiobooks have been:
Onfurtunaly Audible does not contain all of the Black Libray audiobooks books, although they make some awesome books.
I find that the audiobooks are great for catching up on Age of Sigmar books that I do not have the time to read, but I especially find their audio drama only things to be really great (but damn they are expensive).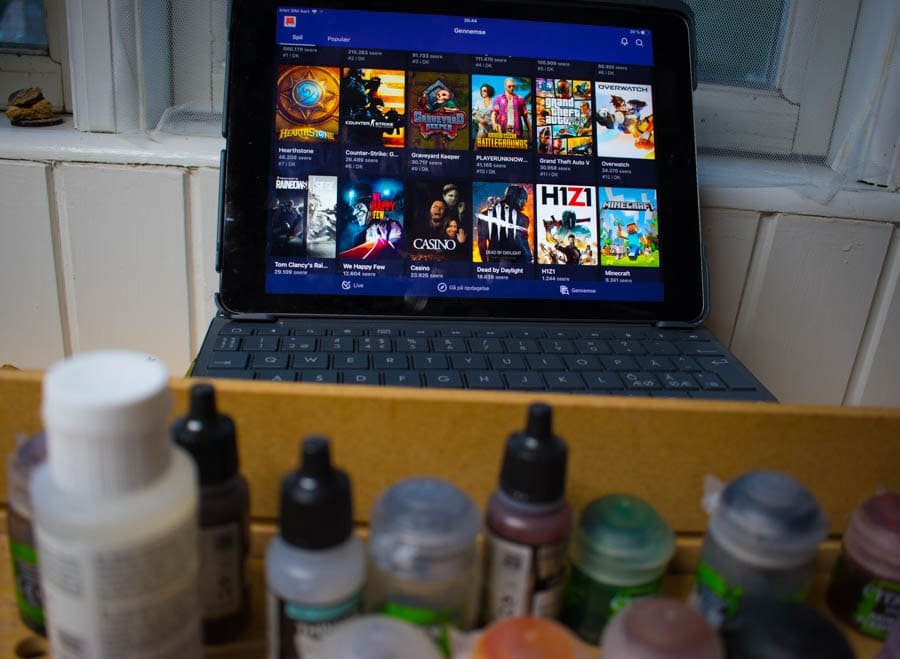 3. The obligatory "watch movies, series, Youtube, Twitch and so on"
These are things you would normally do, and now you just do it while you paint. I know this recommendation is a bit boring because it is so obvious, but it had to be included.
I find it is best to have the screen right in front where I paint, and on the same level as where I hold my model. This means you can peek at the screen without moving about and messing up your paint job.
Movies and series where they talk a lot and where the dialogue is easy to follow is best for 'watching' while painting. Too much action is hard to keep up with!
Try not to watch something where the storyline is too complex or where the visual is a big part of the story. Chances are that you will either get lost in the story (and you stop painting), or get lost in your painting so not really following what you are watching.
Watch something that your significant other won't watch with you. This might be the only chance you have at watching that crappy marvel series!
Try watching something that will get you excited for the type of models you are painting. I find that universes too foreign from what I paint can get me out of the groove.
4. Paint while you paint
I know this is crazy, but I very much like to paint while I paint. I mostly do this when I am alone, and there is complete silence. Then I can get in a deep trance, just focusing on exactly what I am doing. This is a very mindful painting state, and I thoroughly enjoy it.
I have tested it several times, and this is by far the quickest way for me to paint. I am not distracted by anything funny or captivating, so I bang out a lot of quality paint.
If at all possible, this is my favourite thing to do. But there are only so many hours I can do it, so it is good to have something else to keep my attention.
5. Listen to music that gets you pumped or that calms you down
Depending on what you want, music can either help you go faster or slow down and relax while painting.
Painting for me is generally a time where I relax, so I put on the most relaxing stuff I can find (without falling asleep).
But at times when I just want to bang paint on (or need to do finish something the night before a tournament) or put on the rock stuff. Many movie soundtracks are actually great for this because they continually build to a crescendo of 'you can do it' music.
Other than that, just pick whatever you find will pump you up. Stuff you listen to while exercising or cleaning (if you do that kind of stuff).
Use the time to listen to albums you otherwise would never find the time to.
Try listening to Spotify's 'Discover Weekly' or 'radio' for a great artist or playlist. Go down the rabbit hole and find music you will listen to for years to come.
6. Watch some E-sport (or regular sports)
I have used a lot of my time while painting watching some E-sport or sport. I find that things with regular breaks or a slow tempo is best for me.
I hate watching shooters or MOBA's. I feel like they go to fast for me to follow what is going on and the commentators start talking really fast when things get crazy.
Hearthstone seems to be the perfect E-sport for me to listen to. The commentators have a long time to explain exactly what is going, so they don't generally talk too fast. The description can generally give me a great understanding of how the game is going, so I do not need to constantly look at the screen to follow along.
American Football is just the perfect real-life sport for painting. The breaks are many and I only have to look up when there is actually any action. I Usually watch stuff without commercials (game pass) and when I don't I go insane (how can people watch those things!?).
7. Paint with other people
If you have never painted with other people, it is high time you gave it a go.
This is a great way to hang out with friends. You are doing something productive and fun, but you still have all the time in the world to get a good talk in with your buddies. Remember to watch how many beers you have (yes, I have ruined a few models that way).
I don't do it as much, but people seem to love hanging out via the interwebs while they paint. Either via twitch or regular sessions via discord.
8. Watch Battle reports
One of the unique video formats of Warhammer is the battle reports and they are great for watching while painting.
Mostly there is a lot of talking and explaining what is going on.
You get to learn the rules of your army better by watching them being played.
I get hyped by watching a unit I paint being played (and kicking ass) on the table top.
It is a great way to learn rules for other armies (and the general rules if you are new).
At the moment would recommend the youtube channel Rerolling Ones for AoS battle reports.
9. Watch playthroughs of games you are never gonna play anyway
If you have as big a backlog of games as me, you might want to try this as well. I have games that I bought 10 years ago and I realized I realistically was never gonna play them.
So at some point, I decided I would just watch someone play through them to experience the story (and skip the bad parts). This has worked extremely well for me!
Works great if there is a game series you want to jump in to, but you cannot be bothered to play some of the earlier games (hallo Witcher 1).
Some RPG games are just too long if you have kids. Why not watch them instead?
Telltale games and pure story games can, for me, be a bit boring. Listening to someone else play them is a great way of doing it instead of spending my precious video game time on them.
My favourite YouTuber for this is Christopher Odd. He has a great voice and his style of playthroughs are very much how I play games.
10. Watch lore videos on different gaming universes you like
Watching lore videos about different gaming universes you love can be amazing to do while painting. I read a lot, but this is by far the most effective way of getting deep into the lore of something.
Watch lore videos on Age of Sigmar from youtuber +2 though. Without a doubt the best lore content for AoS at the moment (besides the Black Library novels).
Nobell87 is the best when it comes to World of Warcraft lore. You have to get used to his voice pattern, but after a while it is okay.
The Vaults of Terra is ok when it comes to 40k lore (and there is a ton of lore stuff).
I would recommend Minious if you want something for Mass Effect.
The Witcher series and universe have quickly become one of my favourite settings. I have thoroughly enjoyed ShoddyCast's series on the Witcher lore.
If you are like me, you never have time to play all the games you would like. I have found a way of following along with the happenings in Wow, even though I stooped playing. I simply watch all of the cinematics while I paint.
11. Listen to Podcasts
There is so many Age of Sigmar podcasts out there, I simply do not know how to list them all. The all-time best has by far been Heelanhammer, but they are shutting down the podcast for good.
A new good one is The Honest Wargammer (you will know Rob from his days on Warhammer TV). These guys chuck out a lot of good quality content on twitch, podcast and youtube (although I still find the sound quality to be a bit rubbish).
12. Post work in progress (WIP) pictures to keep motivation going
Some people find it keeps up their motivation if they take pictures along the way, and post them on some kind of forum. You can set up a blog at the TGA forum, find a facebook page to share your progress or join monthly painting competition to keep yourself to those painting deadlines!
13. Watch roleplay on the tube
Dungeons and Dragons has suddenly become cool and mainstream (never thought I should say that) which means that there is big money in the market. Big money means high production value. Enter Critical Role.
Ever wanted to watch premium roleplay with top-notch voice actors? Well, this is it!
14. Talk to your significant other
Funilly enough, this is actually my preferred way of painting. When I paint my, ears are completely lacking in any form of distraction, and my brain is actually more ready for a good talk then when I am doing other stuff.
My girlfriend loves this, because it means she can get all the talks in I have postponed for ages (what are we doing next weekend, who should we invite to the X thing and how are we handling the logistics of the Y thing).
I think the majority of our upcoming wedding will be planned while I paint…
15. Watch movies or series with your significant other
Try telling your partner that you will watch ANYTHING with them as long as you get to paint or fiddle with miniatures while you do it.
I think you will find that even the most boring series is not that bad when you get some painting done at the same time.
The best thing? Your partner will be very happy afterwards!
16. Glue stuff stuff
Sometimes I paint stuff where I have to wait quite a while to let the paint dry. This is especially the case for glazing, wet-blending and when I have to do a lot of different washes on a miniature.
I have found that glueing and assembling miniatures is actually not that bad to do while you paint.
They also need to sit for a while, waiting for the glue and plastic to cure, so doing both at the same time means you can feel twice as productive!
17. Get up and walk around
I know, this is boring. But I cannot count how have many times I have messed up my back from sitting in an awkward position for too long.
Remember to change painting position and get up and stretch that back!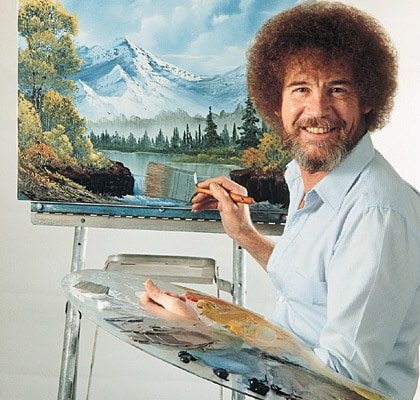 18. Bob Ross
My top tip for staying motivated? Just listen to Bob Ross while you paint your happy little grimdark miniatures.
Liked this hobby article? Here you can find more of my stuff: