When printing miniatures on entry-level machines, I am constantly feeling like I cannot really fit all of the models on the build plate that I want. What is worse, I have to split up big miniatures into smaller chunks and glue them together afterwards.

And while glueing resin models together is okay, it is not really what I want to be doing. Especially when the models do not come out perfect and the joints no longer fit very well together.

So, you can imagine how excited I was when my Elegoo Saturn 2 arrived. It is a mid to big-sized 3D printer (depending on your perspective) from Elegoo that launched at the end of 2022.
This is my Elegoo Saturn 2 Review. I have printed for quite a while, but I will try and review it from the perspective of a person just entering the 3D printing hobby anyway. I will go into some of the features I really like and some elements of the printer I am less fond of.

Later I will go through how it was to set up, calibrate and print miniatures on the Saturn 2.
In the end, I will look at some alternatives to the Saturn 2 and see how they compare as well as give you a list of other products you need if you intend to buy a resin 3D printer.
Affiliate Link Disclosure
Age of Miniatures is reader-supported. When you buy through links on our site, we may earn an affiliate commission. Learn more about that here.
A quick overview of the Elegoo Saturn 2
The Saturn 2 is a resin 3D printer from Elegoo. They mainly produce 3D printers for home use and most of them are very budget friendly. The Saturn 2 is about $500 and the best prices will mostly be found getting it on sale directly from Elegoo. The Saturn line and its little brother the Mars line from Elegoo are pretty bare-bones resin 3D printers for home use. But that does not make them bad, it just means they print great looking models, but without any WIFI, heated vat, auto-levelling or what have you.

The Saturn 2 has a screen resolution of 7680 x 4320 on a 10 inch screen. This gives you a 881 PPI (pixel per inch) and an XY resolution of 28.5. So while the screen is technically 8k, it is the PPI and XY resolution you should look closely at. Printing at 28.5 microns layer height (as is feasible on the Saturn 2) will give you very good detail.

On to form factor: it will be a big difference if you are coming from an entry-level small resin 3D printer. The build volume is 219 x 123 x 250 mm and the little brother Mars 3 is 143 x 89 x 175 mm. Those numbers will likely not mean much to you, so let me explain it another way:
What the added size also means is that you can print bigger miniatures in one go, instead of having to split them up in a ton of parts. Not only is this more convenient, but it can also save some resin because you need to print fewer supports. Unless you have an extremely specific use case, I doubt you need to go larger than the Saturn 2, even though it is mostly closed as "mid-sized".

This review is based on me using the Saturn 2 for about 1 month, but I will try and update it if my experience changes.


My quick take on the Saturn 2 is this:

There is a ton of competition and a lot of printers that are very similar in size and specs as the Saturn 2. In fact, the Anycubic M3 Premium and the Phrozen Mighty 8k have almost identical specs! The Saturn 2 is not the clear winner of these printers, but it is also not the loser. A lot will come down to how the various printers are priced at the time you need to buy and if you can get a specific printer in a bundle that is available to you.

There are no two ways about it, the Elegoo Saturn 2 is great. It is bare bones in terms of features if you are comparing it to newer prosumer machines. But for the price you pay you get an amazing screen, a reliable frame and a build plate that can hold most of what you need to print for gaming or hobby.
Affiliate Link Disclosure
Age of Miniatures is reader-supported. When you buy through links on our site, we may earn an affiliate commission. Learn more about that here.
Quality of prints: Screen of the Elegoo Saturn 2
Let us start with one of the most important aspect of any 3D printer: the specs of the screen and the light. This is what plays the biggest factor in the quality of the print the resin 3D printer can produce.

The screen is an 8k printer with the following specs:
7680 x 4320
10-inch screen
PPI of 881 PPI (how many pixels you have per inch of screen)
XY resolution of 28.5 (the size of each pixel)
So what does that tell us about the print quality? You might be fooled into thinking that 8k resolution is twice as good quality as 4k resolution (and Elegoo sure would like to fool you as seen in the image below), but in the world of 3D printers things are much more complicated. What is most important is the pixel per inch and the size of each pixel, as this determines how much you can fine-tune your settings to get amazing quality.
So in the image above, this will only be true if the screen of the printer are of the same size. Let me explain by comparison:

The 4k screen on the Mars 3 has a PPI of 732 (vs 881 on Saturn 2) and an XY resolution of 35 (vs 28.5 on Saturn 2). So in terms of quality of the print, the Mars 3 and the Saturn 2 will be almost identical in sharpness – so do not be fooled by the 8k marketing here.


You buy the Saturn 2 for the form factor, if not go read our Mars 3 review instead. But having a big printer with an 8k screen instead of 4k like the Saturn 1 is a huuuuge improvement in quality.
And speaking of printing in great quality: it is extremely hard to see the difference between say 30 microns and 20 microns – unless you use photography and zoom way in on the model. The naked eye will just have soo much trouble discerning any difference between the 20 micron layer and the 30 micron layer, so printing at lower than about 30 microns is not something I recommend. Remember, 10 microns equals 0.01 difference, which is just so damn small.

Also, the layer height also drastically increases print time, so finding the sweet spot is best way of doing it. I know a lot of people that print almost everything on 50 microns, because they can simply not see the difference in the outcome and it drastically cut down on print time.
So the screen resolution of the Saturn 2 should be more than adequate, even if you are a bit extreme about getting the most possible detail you can.

All that said, the XY resolution (pixel size) and the PPI (how many pixels you get per inch) do give us a metric to compare resin 3D printers against each other. Later on, I will provide a table with specs on the Saturn 2 and how well they compare to the competition in various specs.
Note: this is a very simplified way of looking at things. A lot of other things can determine the quality of a resin 3D print:
How precise the light is (imprecise light will bleed out and blur the detail)
The type of resin used (some resins are more precise than others, have more strength etc.)
The stability of the printer (if the printer wobbles, it matters little what the size of the pixels are as everything will be imprecise).
How well the settings and exposure have been dialled in for the specific resin, 3D printer and temperature of the resin.
The screen of the Saturn Pro is an anti-scratch screen that, in theory, does not need a screen protector. Great thing to have!
A bit about the light on the Saturn 2
It can be hard to determine this, as new printers will always say they have "improved lenses and light". And this is no different with the Saturn 2 here.

What that should mean is that the printer is more precise, and the light will have less "bleed" to adjacent pixels and make the details sharper. How to test that? Hard without a lab. And while I would like one, other things are on the todo list first.
Longevity and Price of replacement screen
If you are new to 3D printing you should know this: the screen on your resin 3D printer will over time degrade and start to fail. It happens a lot less frequently nowadays (as the modern mono screens lasts longer), but it is still considered a "consumable". The Saturn 2 replacement screen is right now priced at about $130 and is rated at about 2000 hours of print time.
---
Build volume of the Saturn 2
The build volume of the Saturn 2 is pretty darn big, coming in at 219 x 123 x 250. To compare a few different models of 3D printers:
The Saturn 2 is what most would deem a "mid-sized printer", but that is only because the large printers are truly large. This feels like a chunky unit and I was massively surprised at how big it was when it arrived.

If you want to test this out for yourself, you can load up the profile for the printer you are looking at in a slicer (I go with Lychee) and see how much you can put on there.



As you can see I can put about double the amount of models on the build plate as a small printer and I can print a giant in one go instead of splitting it up in multiple pieces.
---
Stability of Saturn 2: the dual rail system
Having a stable resin 3D printer is insanely important. When printing at this small details, even the slight imperfection or vibrations might be an issue. This is especially true when you get to the top of the rail on your 3D printer, where some printers can start to wobble a bit. This is even more prominent when the printer is very tall.
My Saturn 2 has been super stable and I have seen no issues with this, which I actually feared before getting it. The materials used are on the cheaper side compared to competitors, so it was something I thought might be an issue. The two-rail system has gone a long way in keeping the printer stable, even though it is pretty big. Keep in mind: I print at slow speeds. As in, about 50% of default settings. If you want details and successful prints every time, that is the way I like to do it.
---
Build Plate of the Saturn 2 and levelling
Elegoo uses a design for their Mars and Saturn line where you have two screws that holds the plate to a ball join. Other companies use a better design, but it is not the worst in the world. On older models, this proved to be a bigger problem. When you took models of the build plate, the plate tended to come lose and you would have to re-level it. On the Mars 3 this was mitigated by getting stronger screws, but another issue persisted:

If you were not super careful in how you tightened the screws, the build plate would tend to get misaligned so the right side was a bit higher than the other. This is still a bit of an issue here and I guess that is why they printed this sticker on the build plate:
Levelling this machine is okay. A bit fiddly to hold that build plate in place while screwing the first screw a bit, then the second screw a bit, then back to the first screw to really get it tight and then the second screw (to avoid the misalignment when taking prints of). In this regard, Anycubic and Phrozen machines will be more nice to handle.


But once leveled the build plate of my Saturn 2 have remained surprisingly level for a very long time (but I also apply very little force to it when taking minis off, compared to other people). Very happy about how it has worked out. Even when I had to put some force into removing something off the build plate, it remained looked into position.

Speaking of build plate, this is how it looks:

At some point, people made a lot of fuss about having build plates that were easier to get the print to stick onto. I think by now people have come to realise that it is all in the first/burn in layers and the speed of the printer where this is determined. So yeah, have not experienced failed prints because of the build plate surface at all.

Only thing I am missing here: auto levelling. But this is not really a prosumer machine with that kind of features.
---
Active Carbon filter and hole for ventilation
Finally, active carbon filtration is becoming more of a standard thing on resin printers, and we have one on the Saturn 2 as well. It is the same white dongle you put in the small port inside the chamber. It does the job by removing some VOCs and smell.
There is one issue here though: while you can buy replacement air purifiers from Elegoo, you cannot buy just the carbon but you have to buy the whole unit. This is super strange, as it is only the carbon that needs replacing. This just contributes to more e-waste and should be rectified immediately by Elegoo.
Keep in mind: while the carbon will help with filtering out some VOC's from the printer, it will by no means make this a non-toxic printer. As soon as you open up that lid, the air around your workspace will become toxic. Wear a proper respirator mask and do not print where people need to be. And if you can get some ventilation going, that go a long way of getting nasty stuff away from you.
Speaking of ventilation: we finally have a bit of help ventilation our printers with a small hole on the back of the Saturn 2 you can take off and start making your own ventilation system. I have not tried this out, as I have quite a few resin 3D printers side by side, so I need to ventilate all of them and not just a single unit.
---
The noise of the Saturn 2
Be aware: I am extremely aware of noises, so even the slightest weird pitch can irritate me.
The Saturn 2 suffers from the same weird thing, where the instant you turn it on the fans start blaring. There is no reason for this and I wish Elegoo would stop doing it (same on the Mars line). Other resin 3D printing manufacturers have learned this, so why not you Elegoo?
The fans on the Saturn 2 are certainly not silent and are quite noisy in my ears. There is also noise when the printer moves up and down. This is mitigated somewhat when going at slow speeds, but still very present.
Standing very close to the printer it emits something like 30DB from the fans and about 40DB when the motor moves up or down. It is certainly not something I would like to sit beside.
The noise from the fans can easily be blocked by good noise cancellation headphones. If you have music on it will also cover the motor noise.
But my suggestion is that the printer should be in a place where you cannot hear it anyway. Both from an audio perspective, but also with regard to toxicity.
---
Testing and dialling in the Elegoo Saturn 2
Now that we have talked about the most important parts of the printers, let us talk about testing and dialling in the printer. After all, printing is the fun thing here!
The Elegoo Saturn 2 comes with the standard Rook file on the USB drive sliced at very standard and settings. I have written about this before, but it is a bit weird that this is still what Elegoo is shipping with their printers.

The Rook will test nothing besides bed adhesion to the build plate. It would be much better to send an actual test file helpful for calibrating and dialling in the resin 3D printer. Oh, and they could also talk to creators about shipping actually good-looking miniature stl files on the USB drive.

Besides the rook file, we had the manual and version of ChituBox on the USB. So I did what I have done with all the USB drives from printers: put them in a drawer and never use them. The drive will brick sooner rather than later (and can cause a super nasty failed print for you) and Chitubox is… not what I would use.
Leveling and slicing for the first print
I got the Saturn 2 setup and levelled without big problems. No assembly is required. The manual is… not great. Again, we have some mistakes and things they forget to mention. It is weird that this is still a problem, but there might be stuff lost in translation here. From a beginner's perspective, I would likely seek help from content creators and not from the documentation from Elegoo. It was not fatal flaws this time, but just somewhat important stuff they forget to mention.
I decided to go with a resin mix of 80 % Siraya Tech Fast Grey and 20 % Siraya Tenacious Clear. This was sadly what I had on hand, as my local resin dealer had run dry of the Siraya Navy Grey and Siraya Tenacious Black. The properties of the resin are very close, but images of the prints are a bit worse since the prints are very white (making it hard to see the detail before they are primed or painted in some way). But it makes for great looking miniatures that do not break the instant someone touches them.

So I got the resin ready and loaded up Lychee slicer. I changed some default settings to make sure the printer would operate nice and slow while I dialled in the properties of the resin (dialling in speed comes at a later stage). The most important thing I changed was setting the layer thickness/height to 30 microns instead of 50. The printer can handle this because of the XY resolution and it will give a better print (at the cost of speed). The ambient temps of the print were about 25 celsius.
I first wanted to test and see if I could get my printer to print dimensionally accurately. This just means that it printer prints exactly what it is I tell it to. So if I print at box that is 10mm across all surfaces, the end print should be 10mm along all surfaces, and not something like 9.90. For this, I used the Boxes of Calibration by J3D Tech. The great thing about them is that you do not necessarily need to have callipers to measure your prints afterwards, but you instead put the small boxes into each other and check if they fit.
The print came out succesful, but I had too little exposure time. I also found the strength of the resin was way too strong. I had trouble breaking the small boxes off! So to make it a little less strong, I lowered the amount of Tenacious resin in the mix.
So instead of 80/20 I went all the way down to 90/10. I then kept my settings the same and tried again. The new mixture should lead to it needing less exposure, so no reason to change that up right now.
I did decide to break my own rules a little bit here and change up the speed settings a tiny bit already. I was confident that the next print would stick, so I could start messing a bit with this.
Next print came out super close to being dimensionally accurate:



After that, I measured the cones. I was lucky and had hit the exposure time pretty well for the first go around. Some sides were perfect, while others were off by 0.01-0.002mm. So I know that I was not overflowing my exposure and losing detail if I went with 2.5 exposure time. I printed a few more cube tests, but it was very hard to hit it perfectly. If they were smaller than they should be, I added 0.1 exposure time to the normal layers. If they were too big, I subtracted 0.1 exposure time. Exposure time for my particular situation, if I wanted to get dimensionally accurate prints with this resin, it was about 2.45 seconds.

Since printing dimensionally accurately is not the most important thing for the things I print, I went on to test some other elements.

I then wanted to dial in using the awesome Cones of Calibration found at TableFlip Foundry. These are designed for dialling-in resin printers for printing miniatures. Basically, it will help make sure you can print the supports on presupported models, without overexposing your model and losing details.
It turned out the sweet spot for this test was around 2.5 seconds of exposure. So, this time around calibration went quickly! It will likely not go as great next time I try a new resin.

Tableflip Foundry also has a great test model you should do after the cones. It tests if you can print supports and miniatures well. It came out great!


I could have gone on tested how far I could push the speed of printer without getting failed prints, but for now I just wanted to print some miniatures.

Quality of the Elegoo Saturn 2 (images of 3D printed miniatures)
Below you can find an assortment of miniatures I have printed with the Saturn 2. I am happy to say that I could print 1 liter of resin here without any fails whatsoever. That is a first for me when getting a new resin 3D printer, but I am also using better resin and have gotten better at setting speeds and calibrating to avoid random fails and issues with Resin 3D printing.

Notice that the resin I used is quite grey/white, so I had to do a zenithal highlight or a drybrush to make the details more visible on some of the miniatures.
---
Design of the Saturn 2
So on to how this thing looks and a few other design things we have not talked about. The Saturn 2 is massive. An absolute unit! Just picking up the Allen key was like "damn, boi!".

The Saturn 2 uses the same red cover as the other Elegoo lines, this time with a bit of a sporty curve to it
The USB slot is on the right side. Better than on the back, but still not great.
The vat is seated in these small holes and then you have a screw on each side that you can take completely out (remember to put them in before printing!).
You have the max fill line and boy can this big of a vat hold a lot of resin.

Because of the massive build plate, I found that even after waiting a long time, a lot of resin was on the build plate and above the build plate. This is not as big an issue on smaller printers, but I think this is just par for the course when it comes to this size of printers.
---
Using the Saturn 2 and ease of use features
Resin printers are, in essence, quite easy to operate. You can print good looking models and miniatures with stock settings out of the box in no time with the Saturn 2. While the stock settings are conservative on some parameters, they are not conservative enough in other areas. I suggest dialling your printer and reading one of the better guides to 3D resin printer settings.
One thing I have to say is that the manual, like earlier Elegoo manuals, is not the best. It is better than what I have seen from them before, but still. As an example, they forgot to say where the USB port was and there are a few finer elements of levelling that they forget (so they printed it on the build plate peel instead…).
This printer is very bare bones in ease of use features. It has the "clean tank" feature, which is great to have, but other than that nothing to really help you out. Elegoo is also not doing you any favours with their "test print" and gives you no help with dialling in the printer. I would hope to see this rectified someday.

You have to find other sources of information. While there is a lot of great info out there, there is also a lot of myths and fake news being repeated like gospel. If you want help straight from the manufacturer, Elegoo is not the place. I would look at something like the Prusa resin printer if you are looking for handholding and great support directly from the manufacturer.
---
Shipping and the package of the Saturn 2
As with all my Elegoo products, it was shipped carefully and with a ton of foam. Unlike with FDM printers, resin printers like this come fully assembled.

There are no wires to attach or anything that can go wrong. While I find the amount of foam and wrap to be slightly wasteful, I respect that I got my machine without anything being broken or knocked loose.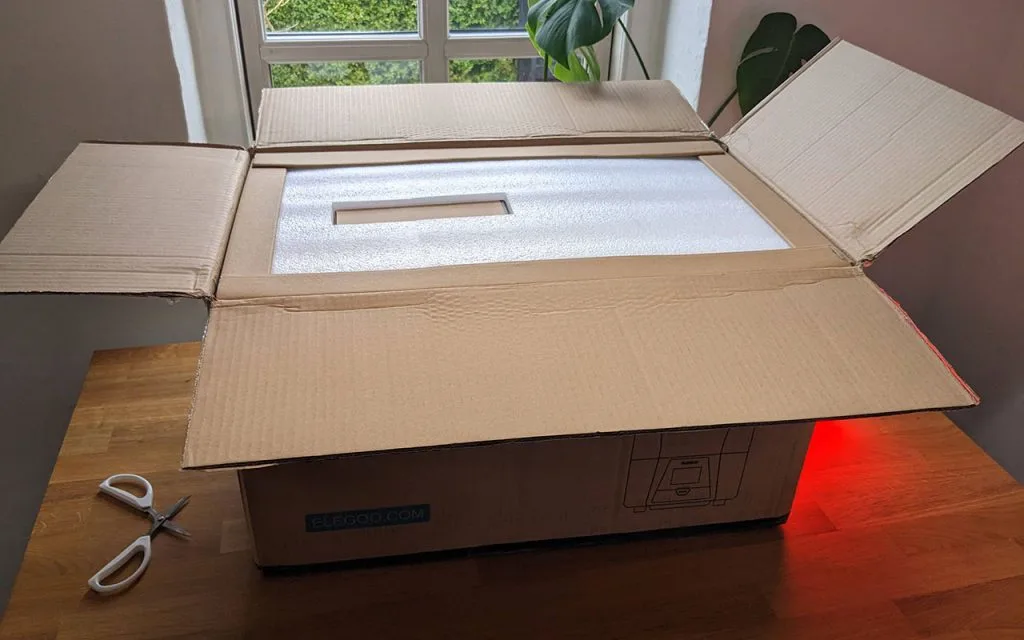 Touchscreen
The touchscreen is what it is really. You will be pressing it so little that it does not really matter that it is one of those touch screens that feels awful to touch. The UI is okay, certainly some improvement since the Mars 3. But it is still very bland and lacks polish.
---
Speed of the Saturn 2
This is a sturdy machine with "Two Stage Motion Control" (TSMC). This means you can set a slow setting for one part of the Lift Speed and Retract Speed and a faster speed for the later part of the movement, where slow movement is less critical. All you need to know is that you are getting the best of both worlds: conservative/slow settings without sacrificing that much speed of print. If you have not used a machine with TSMC, you will really come to like it.
The printer prints just as fast as the competition in this space. While we see a lot of innovation with regard to speed on the FDM printers, things are harder with resin.

The resin is liquid and when the bed moves up and down the resin goes in motion. The liquid resin needs to fully settle before a new layer is exposed. If the resin is not settled before exposure begins, you will start to see various artefacts on your print and you will lose details.

So the moving resin is, most of the time, the bottleneck with resin 3D printing speed. TSMC goes a long way in helping with that, but any further innovation is hard for now.

If you have no clue how long printing 3D miniature usually take, here is the time some of my prints took:
A batch of 32mm miniatures printed at 30 microns with slow resin (2.5 layer exposure): about 6-8 hours
A batch with a big ogre mixed printed at 30 microns with slow resin (2.5 layer exposure)): about 11 hours
A big giant using most of the height of the printed at 30 microns with slow resin (2.5 layer exposure): about 24 hours
Now these times can be cut down a ton by:
Getting the speed of the printer dialled in for faster prints
Using resin where the exposure time is shorter
Using layer height of 50 microns
As an example, my fully dialled in Mars 3 Pro takes between 2.5 – 4.5 hours to print 32mm miniatures at a 0.035 layer height with a fast resin. The exposure time there is about 1.2 seconds.
How much faster will TSMC help you get?
Printing the same file and using almost the same settings on my Mars 2 Pro and Mars 3 Pro, they were done at almost exactly the same time. But the Mars 2 Pro was printing at a layer height of 50 microns and the Mars 3 Pro was printing at a layer height of 35 microns and taking advantage of TSMC settings. For me, that is amazing. Would never again get a resin printer without TSMC.
---
Odour and toxicity of the Saturn 2
This is a bit of a pet peeve of mine, but I think it is just that important. I have a hard time understanding how 3D printing manufacturers can sell resin printers and resin without better guidelines on handling this super toxic stuff.
In the manual it says to wash prints in IPA, to use the printer indoors and to avoid direct sunlight, to wear a mask and gloves before using and to avoid direct skin contact.
They say to wear a mask, but the mask icon they use and the mask they provide will not protect you from the resin
On the bottle of resin, it says to wear gloves and a mask when using + various warning signs.
All of these statements are true, but so much is left unsaid. If you are just starting out: read up a lot on this topic, as it is very likely you do not have a suitable environment for printing resin miniatures. Be sure you do before you buy a printer! I think companies like Elegoo should be better at giving good guidelines for how to set up a ventilated printing area, the process of handling resin and the process of getting rid of the waste.
---
Extra supplies in the box
The Saturn 2 comes with a very standard and boring array of supplies and utilities. This is what you get in the box:
Besides the printer the box includes:
Power cord
The classic blue nippers (actually okay)
Extra screws and tools
USB dongle (low quality and should be changed)
2 masks (you should use something better)
Some nitrile gloves
Plastic scraper (pretty bad and you should use something better)
Metal scrapper (kinda bad, but I never use metal scrappers anyway)
Paper funnels
Weirdly enough, there is no extra FEP to found (which is often an extra thing).
Upon arrival, I would put both scrapers, the mask and the USB drive in a drawer and forget about them.

The masks are not nearly enough protection, and by providing them Elegoo is sort of stating that it is. The plastic scrapper is not good enough to use on the build plate and I would never put that thing near the FEP. Some like the metal scrappers, but I do not want to gauge my build plate.
The USB drive is the worst because it causes failed prints without people realising that it is hurting them. I did not use them on this test, but this happened at my fourth print on the Mars 2:
I understand that cheap supplies keep the cost of the machine down, but I would rather get nothing or pay more and get stuff that is ready to throw out upon arrival.
---
Release date of the Saturn 2 and when will the Saturn 2 be outdated?
The Elegoo Saturn 2 was released in late 2022. I think it will be quite a while before we see a new Saturn machine, likely first in 2024. Right now we are also running into a bit of a problem with new editions: what are they going to change? While the jump in screen resolution from the Saturn 1 to the Saturn 2 is a big leap, it is unlikely that any massive quality leap will happen from Saturn 2 to Saturn 3. It will most likely be more "prosumer" features we see in the coming years (at least I hope so).

So unless you are looking for a heated vat, auto levelling or some other "nice to have", the Saturn 2 looks like a super safe buy right now (early 2023).
Is the Elegoo Saturn 2 the right printer for you?
What I really like about the Saturn 2:
The resolution is just in that sweet spot for miniatures
It is easy to use
Plenty of build space
Drawbacks of the Saturn 2:
Not a lot of extra features
A bit cumbersome to use
Information material and UI still not great
I really like the Saturn 2. I think the size of build plate and resolution is the best you can currently get for printing miniatures. Yeah, if you are starting out I still would get something a bit smaller. But this is a nice machine that do great prints.

At is all the extra stuff besides the print, the finishing touches that are missing here. The bland UI, the less than stellar onboarding via the information material. The lack of any wifi connection or extra features. It is very bare bones, but as long as the price reflects that it is okay.

Pricey of 3D printers is hard. I have seen the Saturn 2 for as low as $500, but it can quickly fall in price. If you can get this cheaper than the competition, this is my pick for the best 3D printer for loads of miniatures or big models.
Alternatives to the Elegoo Saturn 2
As you can see from the table above, there is quite a lot of competition at this particular size of printer. Besides the specs of the screen and the volume of the print, very small details set these printer apart from each other. This is why going with price is often the best way of doing this.
Anycubic M3 Premium and Phrozen Sonic Mighty 8k
Lets take these in a batch here, because it is sorta funny how the specs almost exactly compare to each other. The Anycubic M3 Premium, the Phrozen Sonic Mighty 8k and the Elegoo Saturn 2 all have the same screen size, resolution and PPI. The Mighty 8k have a slightly advantage on XY resolution, but does not have the same height as the other two. The specs of the Saturn 2 and M3 Premium are almost identical.

I really like the Phrozen printers and their resin, but bear in that depending on your location, they can have insane shipping fees and they do not have a warehouse in each relevant continent (so import duties are much more a thing).

Overall I have had a better experience with Elegoo support than Anycubic support, but both are what I would call "not amazing".

The Phrozen have better UI and wifi support, as well as some extra features. The Anycubic also have wifi support, but it is still not working.
So maybe pricing should be deciding factors, as what you get is almost the same here. I have a table where I constantly update prices of resin 3D printers each time there is a sale.

These are the best prices I have seen for each unit in a respective sale:
Saturn 2: $500
M3 Premium: $500
Mighty 8k: $550
But these prices changes a lot. And sometimes things are just not on sale (please, never buy a resin 3D printer that is not on sale. The "price" listed is never the actual price).
Overall, I would pick whatever you can find the cheapest. I would give a slight edge to the Elegoo and Anycubic, since they are never models.

If you really want to go into all of the small details of each printer, our friend Ross from Fauxhammer has the best rundown.
Saturn 8k
So, this is a bit of a weird one. The Saturn 8k is actually a never machine than the Saturn 2. And why Elegoo would go ahead and mess everything with having more versions of the Saturn, I have no idea.

The Saturn 8k is a bit smaller in height than the Saturn 2. The 8k is, mostly, a bit cheaper. Other than that, they are mostly the same machine.
---
Other stuff you need if you buy a 3D printer
---
Other Resin 3D Printing Ressources