It is hard to keep up with the release schedule for Warhammer: Age of Sigmar.
Consult this page to see lowdown on confirmed Age of Sigmar upcoming releases. We will keep this page up to date so that you can use it as your single point of reference on what yet has to come.
If you are interested to know what Age of Sigmar things has already been released in 2022, you can consult this page. We also do the exact same thing for 40k, so if you are wondering what is going to release for 40k in the future you should check out this page.
We hope you enjoy this list of Age of Sigmar upcoming releases!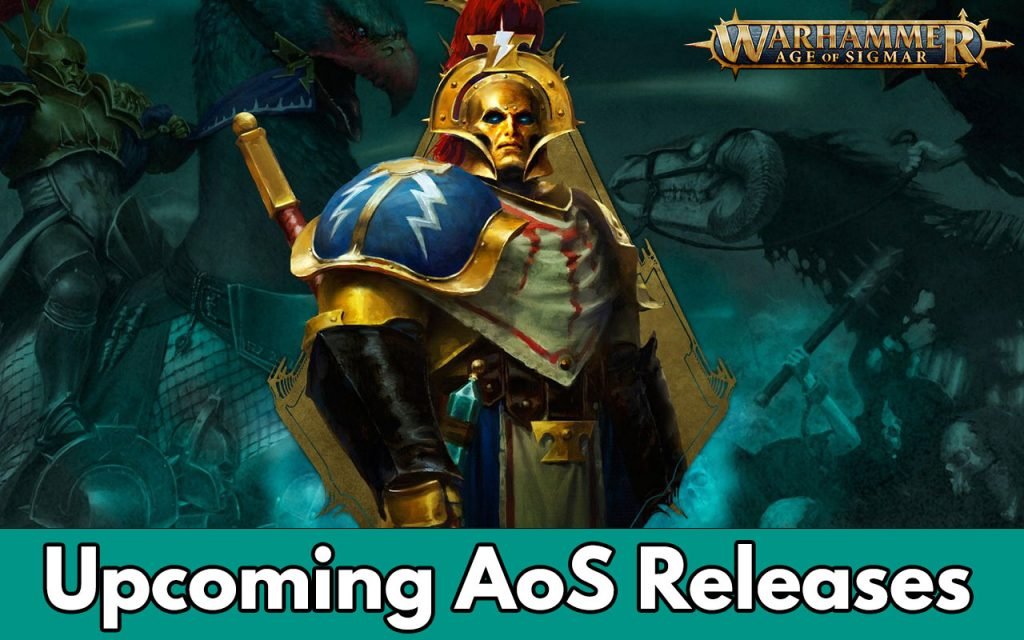 Age of Sigmar Upcoming Releases:
Battletome roadmap 2022 (upcoming updates for Warhammer Age of Sigmar factions)
As for 40K before, Games Workshop finally released an updated roadmap for the upcoming battletomes for Age of Sigmar.
In March 2022 were released the Idoneth Deepkin and the Fyreslayers following the release of the battle box Fury of the Deep.
In May 2022 was the turn of Nighthaunt and Daughters of Khaine, a bit after the release of the box Arena of Shades, while in June 2022 Sylvaneth and Skaven followed the box Echoes of Doom.
In September the box set Arcane Cataclysm will be followed by the Lumineth Realm-lords and Disciples of Tzeentch battletome while later in Autumn it will be the time for Ogor Mawtribes and Sons of Behemat.
Finally in December it will be time for Slaves to Darkness that seems to be accompanied by a decent release of new miniatures.
---
Dawnbringer Crusades
Dawnbringer Crusades are a new exciting project that Games Workshop will present in the coming months on how they will reimagine humans and mortals in general. This new faction will eventually replace Cities of Sigmar.
We were also able to have a first glimpse to the weapons they are going to carry in battle.
---
Ogor Mawtribes – Bloodpelt Hunter
Ogor Mawtribes new battletome will be accompanied by a new miniature: the Bloodpelt Hunter that instead of eating entirely his enemies, uses parts of their body as trophies and tools.
---
Sons of Behemat
King Brogg
The Sons of Behemat will be reinforced by King Brogg himself, although in the form of an upgrade kit for the existing Mega-Gargant sculpt.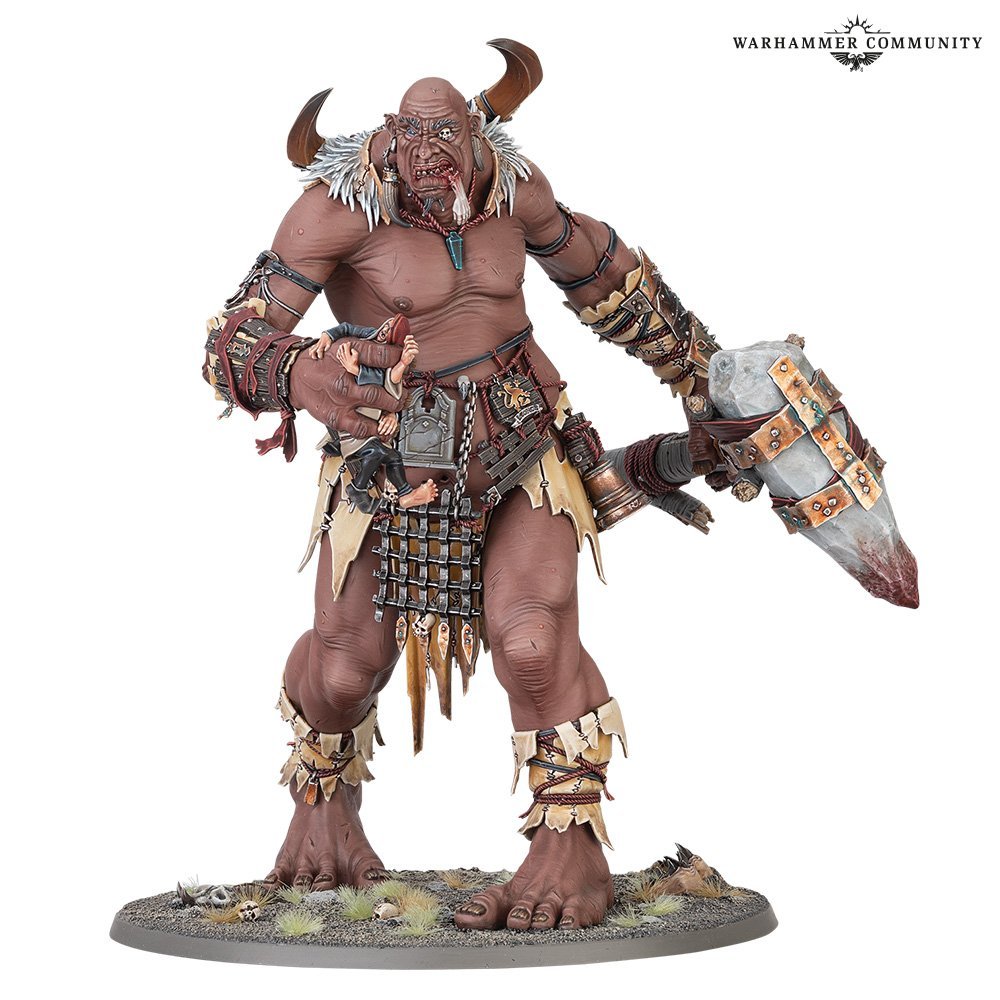 Mega-Gargant Beast-smasher
Another upgrade kit (?) for the Sons of Behemat, in this case it seems a powerful hitter that can concentrate all his attacks on a single 5D6 damage smash against an enemy monster.
---
Slaves to Darkness
Battletome and launch set
Slaves to Darkness battletome will hit our shelves in time for Christmas and for the occasion it will launch with a new launch set complete with new miniatures: the latest Daemon Prince, 10 newly sculpted Chaos Chosen and 3 menacing Ogroid Theradons.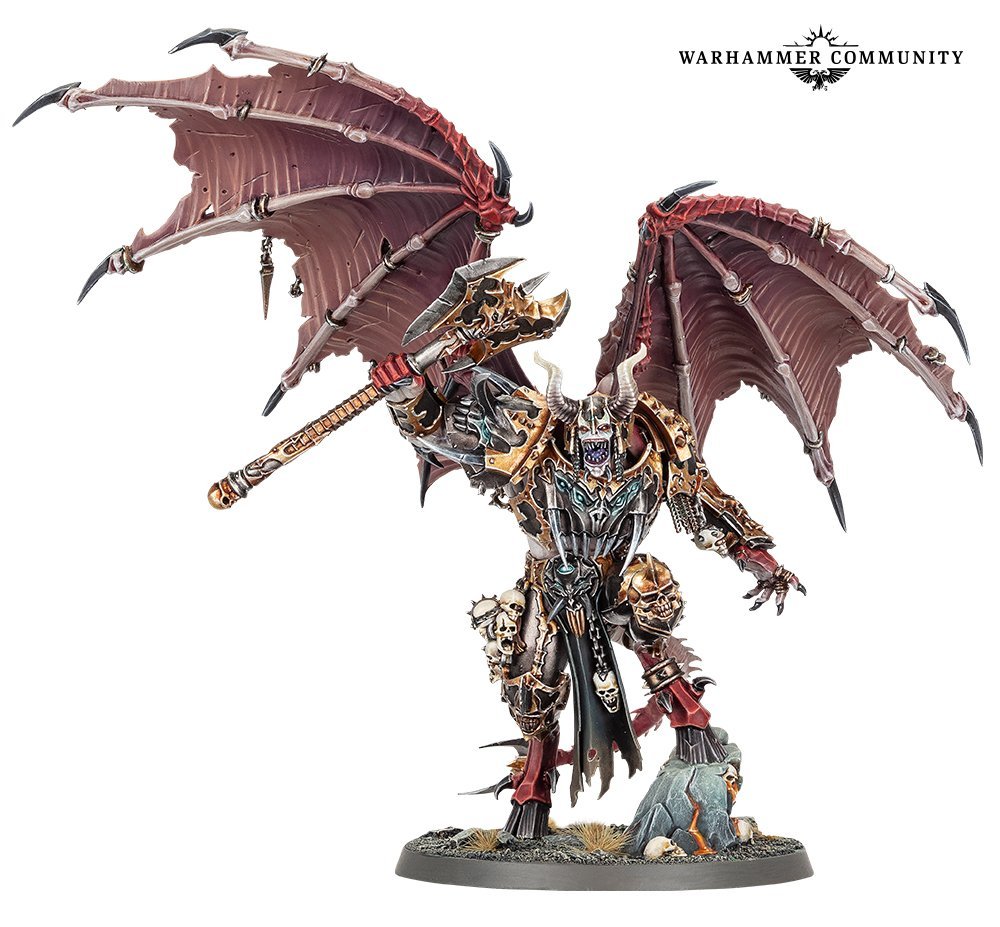 Daemon Prince
The new Slaves to Darkness battletome will be released with a new Daemon Prince model that includes several customization options to get him closer to your Chaos God of choice.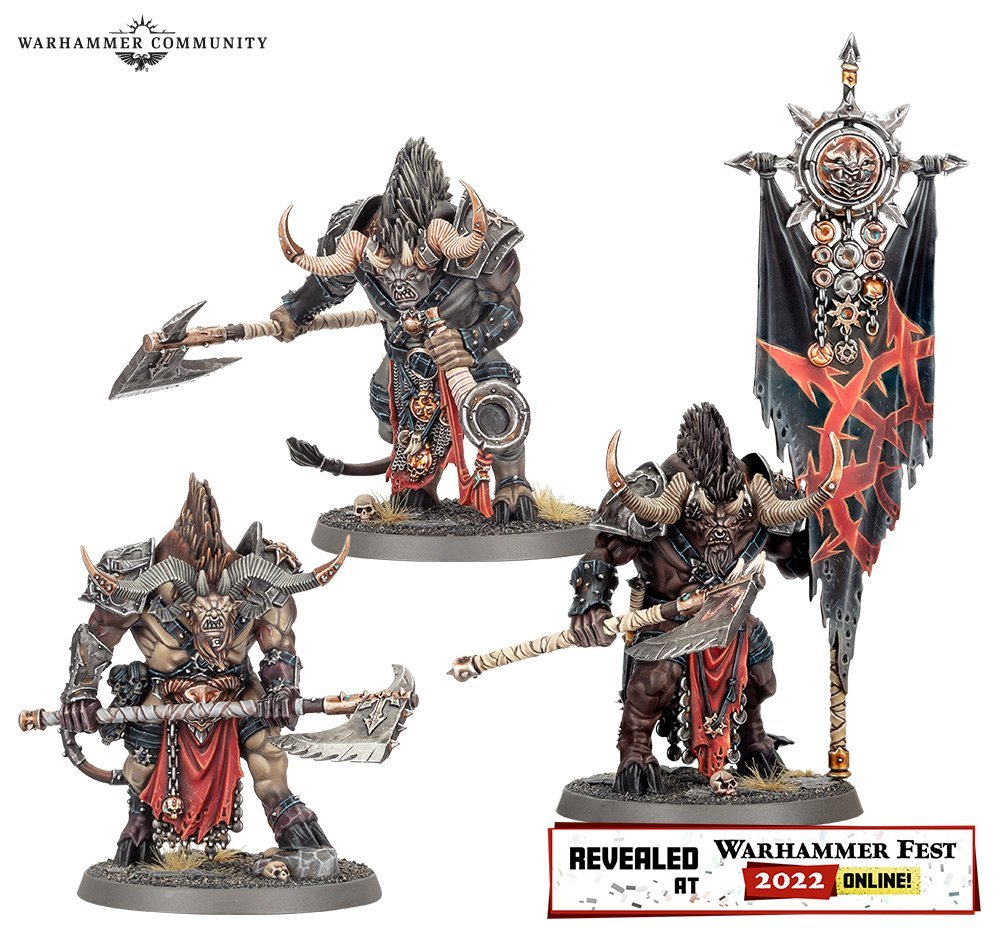 Ogroid Theridons
We have seen already Ogroids fighting for Chaos forces, we now have some background information about their story (they call themselves Goroans and their empire fell to Bonesplitterz) and some new heavy infantry for Slaves to Darkness in the form of the Theridons. The kit comes with 2-handed weapon or blade and shield option and with a musician and standard-bearer kit.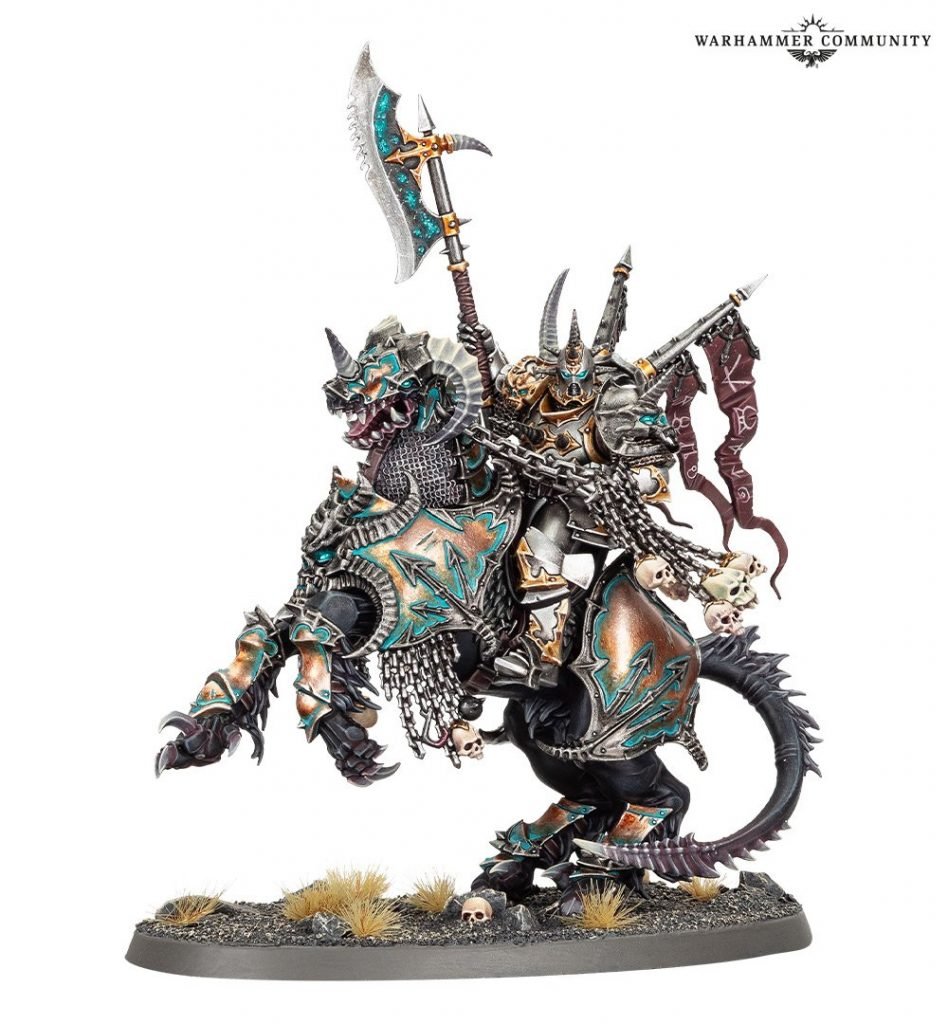 Eternus, Blade of the First Prince
Eternus was a Vanguard loyal to Archaon before renouncing him and be cast in the Cursed Skies where Be'lakor reforged him as his servant in his upcoming rebellion against the Everchosen.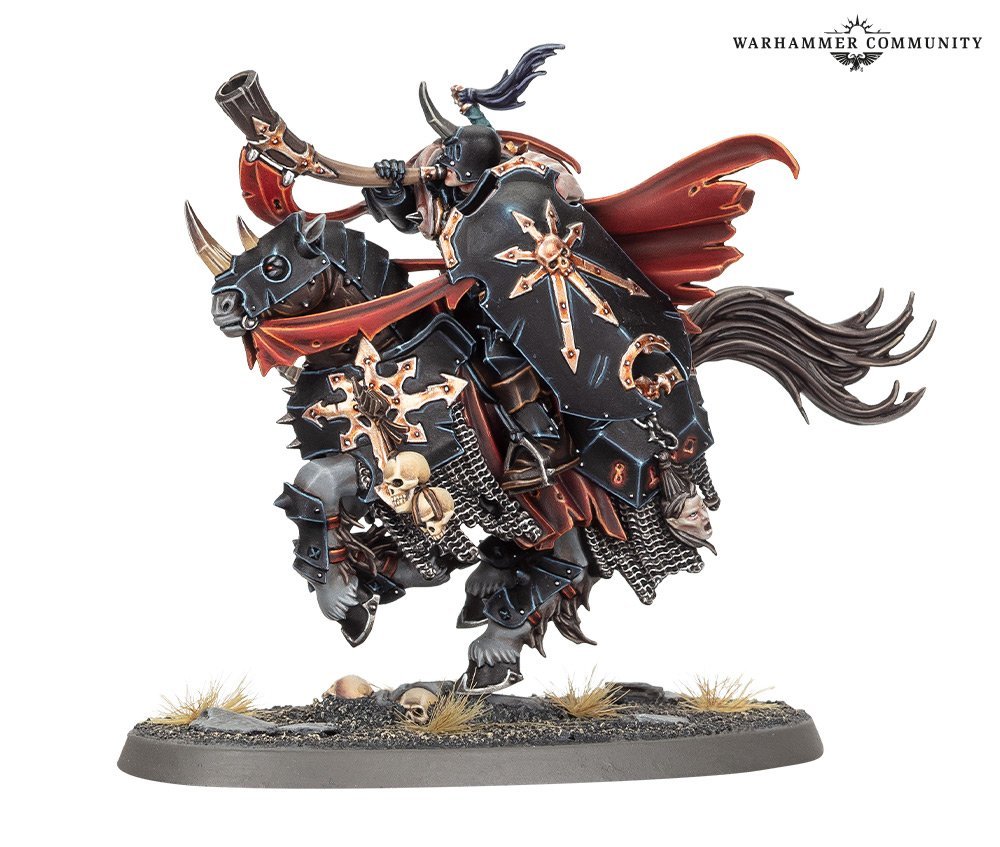 New stand-alone Chaos Knights box
The new Chaos Knights, for now available only in the Start Collecting box, will now be released with a new stand-alone box with a Champion, Standard-Bearer and Musician.
---
Warhammer Plus Exclusive Miniature
This year exclusive Warhammer+ miniature is the Slaves to Darkness Chaos Sorceress Mibyllor Darkfang, that will be available at the end of 1 year of continuous subscription with Warhammer+ (so roughly August 2023).
---
Warhammer Underworlds Upcoming Releases
Season 6 moves back in Ghur, in particular in the Gnarlwood!
Gnarlwood Starter Set
The Gnarlwood will also be the first starter set of the new season depicting the Gnarlspirit Pack, a band of Darkoath pariahs, against the Sons of Velmorn, a band of Grave Guards with their King, fighting to protect their long-fallen kingdom.
---
Warcry Upcoming Releases
New exciting releases are expected now that a new season in Ghur started.
We have the list of the next three quarterly box sets that will contain new terrain and warbands, even those outside Grand Alliance Chaos, like a mysterious Skink appeared in the announcement trailer.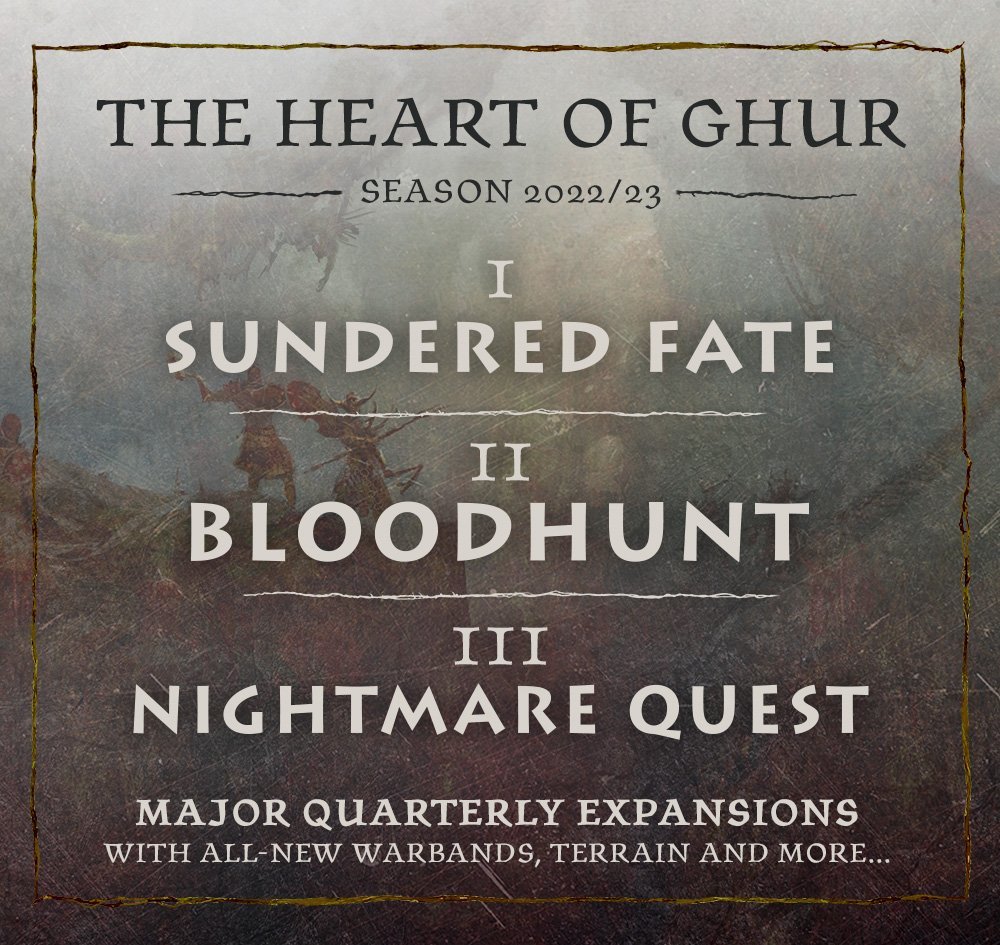 ---
Other GW Board Games Coming up for Release
Cursed City expansions
Now that the first Cursed City expansion has been released, we are looking forward to the next ones!
Warhammer Quest: Lost Relics
Warhammer Quest: Lost Relics is a quick and easy co-operative dungeon crawler for 1-4 players using the Stormcast Eternals already present in the Warhammer Underworlds Season 5 first starter set.
---
Other great resources: