If you paint miniatures you have most likely run into this problem: you are doing a pretty decent job of laying down those final details, only to find that you have rubbed off paint on part of the miniature. This is because the oil from your skin is rubbing on parts of the model and is super frustrating.

What is even worse is when you are painting something where it is hard to hold the mini by the base or if it does not have a base at all? How are you supposed to not touch the miniature while holding it? Just urgh!

Thankfully, we have miniature painting holders to help with that. In essence, they help you hold your miniature without getting your fingers on it.
In this A-case Magnetic Painting Handle review, we go through what this holder is, how it works, what features it brings, the pros and cons of this particular painting holder, and how it stacks up against the competition.
Review Copy Disclosure
A-case sent me this painting handle for review. I have agreed to review this handle, but I have promised A-case nothing more than that. No money has changed hands and A-casse does not get to approve this article before it is published.

You can read more about our Review Copy Policy Here (TLDR: I take this stuff very seriously)
Affiliate Link Disclosure
Age of Miniatures is reader-supported. When you buy through links on our site, we may earn an affiliate commission. Learn more about that here.
What to look for in a good Miniature Painting Holder
Quick & Easy to get Miniatures Placed
Getting the miniature in and out of the holder should be quick and painless. It should not be fiddly and it should easy enough that you can batch paint multiple miniatures with it at once.
Hold Miniatures Firmly & Safely Lock It
The model should suffer no damage from the locking mechanism. The mechanism should hold it firmly in place and it should not be possible for the miniature to fall out on accident. Finally, the holder should be stable and not fall over if you place it down.
Ergonomic Grip
You are going to hold onto this thing for long painting sessions. Getting a grip on your holder that fits your hand size and painting style is important to avoid cramps and hand injury.
Extra features
Some handles will let you rest your hand on the grip for added stability. Others will let you rotate the mini without rotating the handle. These features can go long way in making your painting sessions more enjoyable and your paint quality better.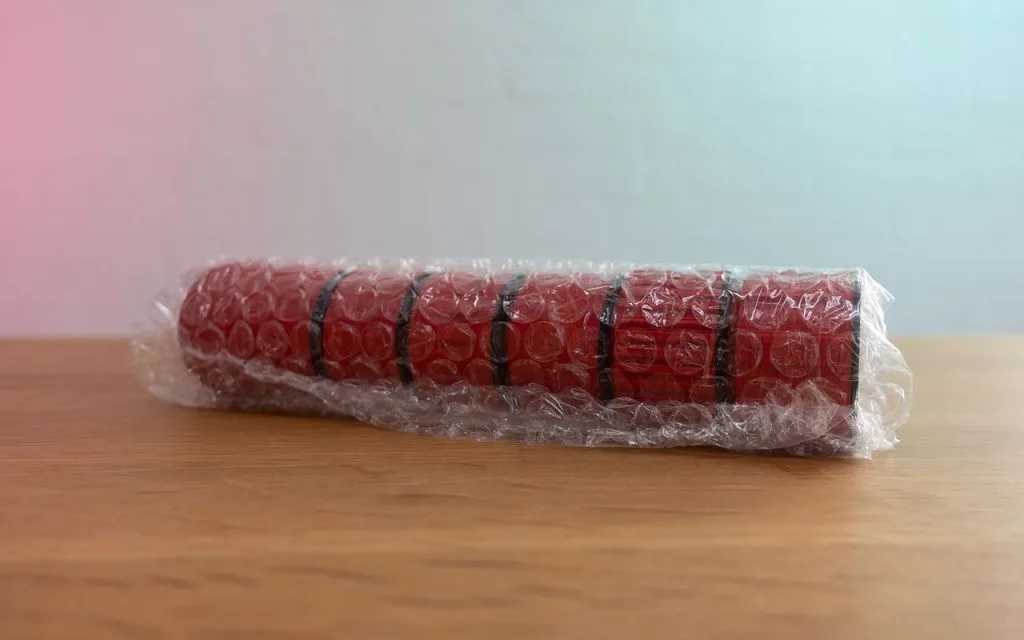 What is the A-Case Magnetic Painting Handle?
Painting handles come in different shapes and sizes, but fall into 3 broad categories:
A mechanical holder where a part of the miniature (mostly the base) is held in place via some locking mechanism
A holder where the miniature is held in place via some form of sticky substance
A magnetic holder, where the miniature is held in place via magnets
Each one has some pros and cons, but you can look at our Best Miniature Painting Holder for a better overview.


Today we are looking at the magnetic holder from A-Case.
The A-Case Magnetic Painting Handle is a 3D printed magnetic painting grip for miniatures that provides a comfortable and ergonomic way of holding your models while painting them. It is designed by A-Case, a company that specializes in magnetic transportation and storage solutions for miniatures.
The handle consists of two parts: a base and a head.

The base is the part that you hold in your hand, and it has a magnet on top. The head is the part that attaches to the miniature, and it has a steel plate on the bottom. The head can be easily attached or detached from the base using the magnet.
The handle comes with five different heads. Sadly, they all seem to be 32mm (so can fit that size of base or below).The 50mm and cork head you need to add to your purchase for an extra cost. The cork head allows you to use pins, glue, or sticky tack to attach miniatures that do not have a base or are irregularly shaped.
The handle is light and handy, weighing only 41 grams, and comes in the colors:
Black
Navy Blue
Grey
and Red
I picked mine to be red. As you can see from the images, parts of the handle will be black no matter what colour option you pick.
You can also buy additional heads separately if you need more.
The handle allows you to have easy access to the model from all sides and angles without touching it with your fingers or risking dropping it. It also helps you to paint more precisely and avoid smudging or rubbing off the paint.

Magnetic handles are a real boon and what I most of the time want to use. Only problem is that you need to magnetize the base of the miniature before you can use it, so people who like to paint the miniature before the put it on the base will find it less useful.

A-Case produces this painting handle, so even though it is 3D printed you (sadly) cannot get the file and 3D print it yourself. So far you can only buy it directly from A-Case.
How does the A-Case Painting Handle Work?
The A-Case Painting Handle works by using magnets to hold the miniature in place. The magnets are strong enough to keep the miniature secure, but not so strong that they damage the model or make it hard to remove.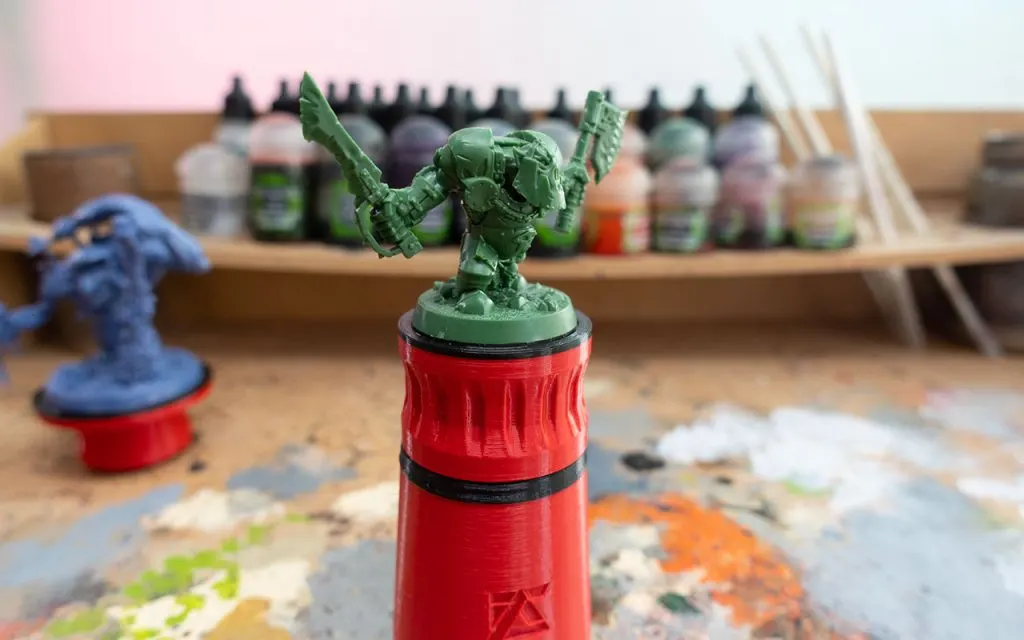 To use the handle, you need to do the following steps:
Choose the head that fits your miniature best. You can measure the base of your miniature or use a ruler to find the right size. If your miniature does not have a base or has an irregular shape, you can use the cork head and attach it with sticky tack.
Attach a magnet to the bottom of your miniature's base. You can use neodym magnets and glue it in place or you can use a magnetic sheet and stick it onto the base like a sticker.
Attach the head to the base using the magnet on top of the base. You should hear a click when they connect. You can adjust the angle of the head by rotating it slightly.
Put the miniature on top.
Hold the handle in your hand and start painting your miniature. You can move the handle around to access different parts of the model. You can also detach the head from the base and use it as a separate painting handle if you prefer.
The A-Case Painting Handle is easy to use and requires minimal assembly. It is also compatible with most miniatures and bases, as long as they have a base that can be magnetized.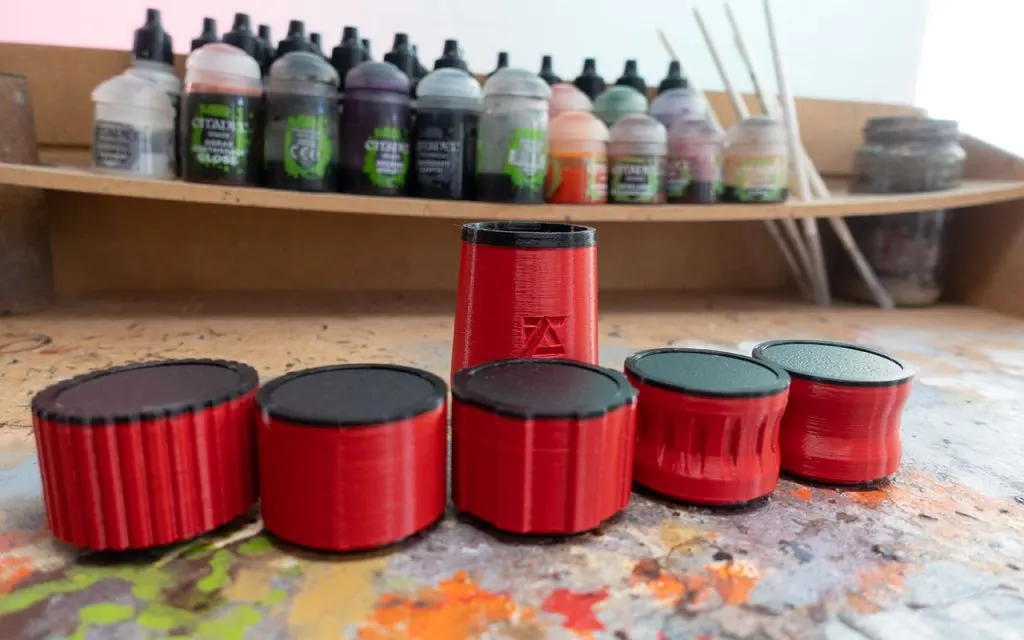 Is the A-Case Magnetic Painting Handle right for you?
Like any product, the A-Case Magnetic Painting Handle has its advantages and disadvantages.

First things first: this kind of handle requires that you glue your miniature to the base and magnetize the base before painting. If that is not your style, this painting handle is not for you.

Here are the pros and cons I found while the A-Case Magnetic Miniature Painting Holder.
Pros of the A-Case Magnetic Painting Handle:
Ergonomics
I found the handle comfortable and ergonomic, fitting well in my hand. As you can clearly see it is 3D printed with a lot of layer lines, but it was not something that bothered me while painting with it. Still, it is not designed for all hand sizes so your mileage may vary.
Quickly snaps in and out
One of the issues with other paint handles is how slow and cumbersome it is to get models in or out of the holder. With this style of magnet holder, you snap the head on the base and then snap the miniature on top. It just works and it works fast!
Modular
I have advised people to make their own magnetic painting handle for years. While it works and is a super cheap option, it comes with some drawbacks. One of them is that the size of the head is not modular to the size of the miniature but that is one of the key things you get with the A-Case miniature painting handle.
Magnetic bottom
This was one element that I had not considered myself. The bottom of the A-Case handle is magnetic as well. I have some metal at my painting station to make sure the handle does not fall over when I put it down, which is super amazing.

It also means that the handle is easier to transport. I simply put it into my magnetic carry case and off I go!
Cons of the A-Case Magnetic Painting Handle: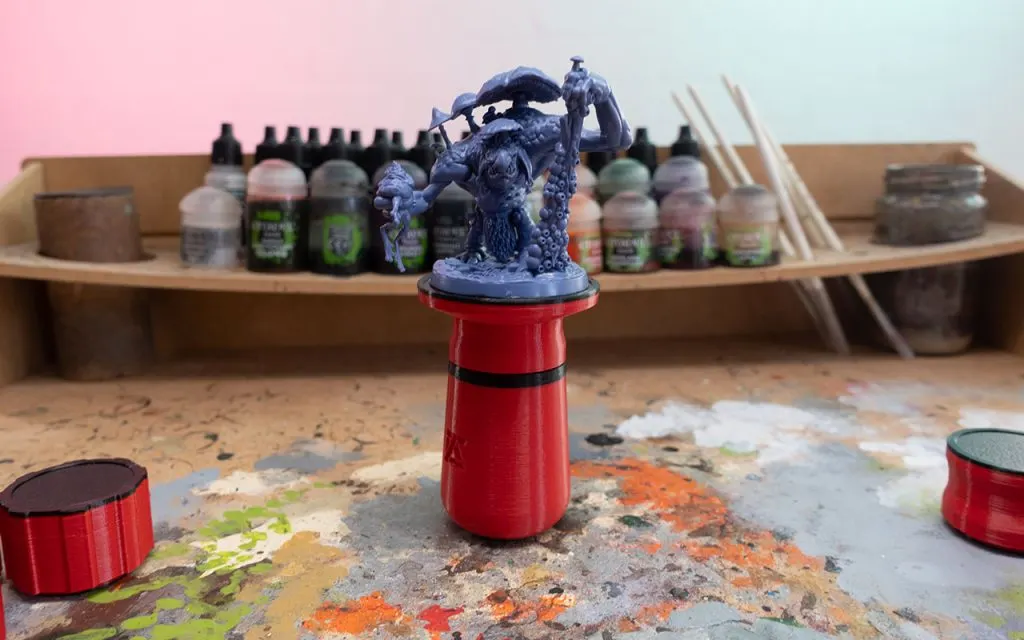 Why only 32mm and 50mm?
It is cool that you get 5 different heads. But other than have different shapes, the actual space on top where you put the miniature is the same size on all 5 heads you get with your purchase. This is a weird decision. Why not give us something like: 25mm, 32mm, 40mm and 50mm in the base set?
No sweet rotation
You can certainly rotate the head, but does not feel nice and smooth (as it does on the RGG Painting Handle). It makes this slight grinding noise and feels cheap and homemade.
Only as strong as your magnets
This is not really a downside of the A-Case handle, but a downside of all magnetic handles. Your miniature can fall off if the magnets you are using are not strong enough to hold the weight of the miniature. If you are painting 32mm plastic miniatures, this should not really be a problem. But for big bois or resin stuff, it can get less than ideal.

Remember, the top of the head here is not magnetic, but metal. So it is actually the magnet under your miniature that is doing the heavy lifting. The metal in the handle should be plenty enough, as long as you are well magnetized under your base.
It is expensive and some options are an extra purchase
So, we have not talked about cost here. It is right now 139 Polish Zloty, which comes out at about $33.5 (but will change according to valuta fluctuations). Considering the very premium RGG holder is about $15 and a magnetic DIY solution can be made for maybe $5, the A-Case handle is falling at a very premium end of the market.

I think it is an odd choice to have the 50mm head and the cork head being extra upgrades, as well as there being no magnets included in the purchase. Looking at the margins on this product, the most expensive part is the magnets and metal. They could likely include all options, cut the cost and still make a great profit.
3D printed texture and no way of printing it yourself
While I do love 3D printed stuff, I am not a big fan of the texture it gives to objects. I neither like to look at the ridged finish nor touching it. When handling the A-Case product, it is clear that it is 3D printed.

Do not get me wrong, these are good prints. But this is not a smooth finish but very much has that "FDM-Printed" feel.
Alternatives to the A-Case Miniature Painting Handle
The A-Case Magnetic Painting Handle is not the only painting handle on the market. There are many other options that you can choose from, depending on your preferences and budget. Here are some of the most popular alternatives and how they compare to the A-Case Magnetic Painting Handle.
DIY Magnetic Miniature Painting Handle
If money is no objection, the A-Case Painting handle soundly beats doing a DIY magnetic handle. But the DIY option kills it on price point, so this still might be the best option for some people.

All you need is a way to get a handle that fits your hand and get some metal on top of it (a metal sheet is what I have used to great effect). There are some great 3D printing options out there.
DIY Magnetised Miniature Holder
Best magnetized miniature painting holder
While the premium options are great, nothing so far beats magnetizing your bases, buying a handle that fits your hands, and putting a metal sheet on top of it.
Buy from Amazon
We earn a commission if you make a purchase, at no additional cost to you.
Red Grass Games Painting Handle
If magnets are not your jam, you should simply get another solution. My go to for a "sticky" locking mechanism is the v2 holder from Red Grass Games. It is has that premium feel and really works great when I paint without a base or something that is not going to be magnetized.
Locking mechanism painting handles
I am not a fan of the locking mechanism style of holders and get by with using the Red Grass Handle and magnetic options.

But if you want you can go with the Hobby Holder from Game Envy or print one.

You might think I have forgotten to mention the Citadel Painting Handle, but I just think it is so bad that I do not want to talk about it.
Who should buy the A-Case Magnetic Miniature Painting Handle?
The A-Case Magnetic Miniature Painting Handle is a great product for hobbyists who are looking for a comfortable and ergonomic painting handle that uses magnets to hold the miniature in place.

It is especially suitable for hobbyists who:
Likes to put miniature on the bases before they paint
Likes to magnetize the bases of their miniatures
Don't mind paying a bit more for the convenience of getting a product that just works.
You should likely not buy this product if:
You do not want to magnetize their miniatures or use magnets at all
Prefer a rotating knob that is has a more premium feel
Only use miniatures that are very large or heavy
Do not want to pay a premium for a painting handle
Overall, I do like the A-case Painting Handle, but as you can tell from my review, I also think it is overpriced. I thought the RGG handle was a bit expensive, but this is twice the price!

I have this feeling that should handle should have been released to a small crowd of testers and then reiterated a couple of times more before it was released. While a good product, the finish is lacking but the price does not reflect that.
---
Other great resources: