This is a list of Black Friday Deals for 2022 regarding miniatures, 3D printing, wargaming and other hobby products.
3D Printer Black Friday Deals (Resin and FDM)
There are some massive deals to be had from Elegoo, Anycubic, Phrozen and Creality and resin printers (and FDM if you are into that).
If you want to quickly compare 3D printers, I have made a massive list of 3D printers with specs of the common resin 3D printers. I also list the cheapest price I have seen the printers retail for, so it is worth keeping handy to know whether or not a deal is actually "a deal".
If you have no clue where to start, read our Best 3D printers for miniatures article and our 3D printing miniatures for Beginner's guide.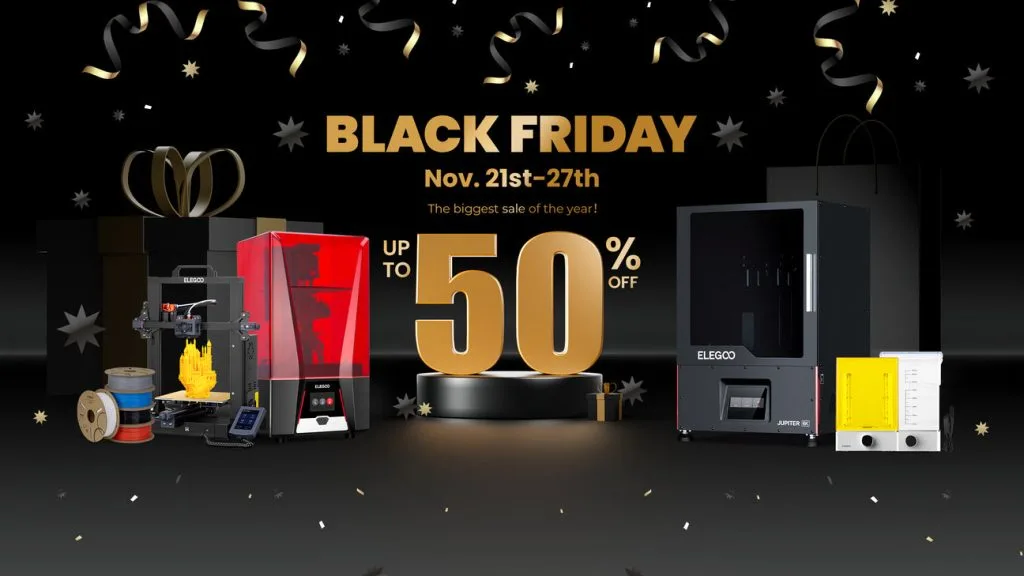 Elegoo had a massive Halloween sale and Black Friday is shaping up to be even better. Also, Elegoo is one of the stores where it is cheaper to buy directly from their store instead of amazon – and there is free shipping.
Things I noted browsing the Elegoo Black Friday site is that they are offloading old models that are being phased out. Not a surprise (this is basically what Black Friday boils down to), but it means you can get some amazing machines for cheap.
If you want resin, there is cheap resin to be had if you are in the EU.
Elegoo Mars 2 is down to $100 (!) and the Mars 2 Pro is $135. That is a damn cheap way of getting started 3D printing!
If you want a truly special machine, the Jupiter is down to $1000
If you do not want a value-based pick on old machines, there are still savings to be had on new machines.
Many types of resin are 20% or more off
Mercury Wash and Cure Series discounted
Screen replacement discounted
Anycubic also likes their sales a lot. Just like Elegoo, you should actually never buy anything that is not on sale. In that sense, the "normal" price tag is a bit of a scam.
There are, weirdly enough, a lot of different coupon codes that result in basically the same thing:
$21 off $200+ sitewide with coupon code BLACK3D
$20 off $200+ sitewide with coupon code PAYPAL
$20 off $200+ sitewide with coupon code SLICK20
When going through and updating my list of best prices for resin 3D printers, these things caught my attention.
You can also get the "mystery boxes". It seems to be a bundle of different filaments or resins in random colors. There is also a sale already on filament and resin.

Phrozen are big into "flash sales", where something is cheap for the weekend, and you get free shipping or something like that.
Do be aware that shipping from Phrozen is insanely expensive in UK, EU, and usually also US, so the sale has to be massive in order to make it cheaper than getting from your local amazon instead or it needs free shipping.
Phrozen is having a sale for US customers only, and boy do I wish I could get in on that. Of notice:
If you are not in the US, the prices are still decent – but shipping prices are still an issue:
Mini 8K for 525 (but wait for the bundle for 500 that comes on the 28th of November)

Creality is mostly big in FDM printing, but they still make some good resin printers as well. Creality runs the same style of "never buy at at stock price", and there are some sweet deals to be had.
Creality is one of those producers where it can sometimes be cheaper to buy from Amazon. Most can be had for 20% Off.
A few things that I noticed were on sale via Amazon:
---
3D Printing Files for miniatures
If you are looking for a huge assortment of presupported premium miniature files, I think MyMiniFactory is the best place to go.
You can see a lot of Black Friday offer from their various merchants here.
If you are looking to get some good deals on printing STL files for miniatures, Black Friday is a perfect opportunity. I will update you with the various sales once we get some info.
---
Various Hobby and Miniature Stores
UK Webstores
US Webstores
Airbrush Black Friday Deals
Airbrushes are another expensive item where even a 20% cut can mean massive savings.
---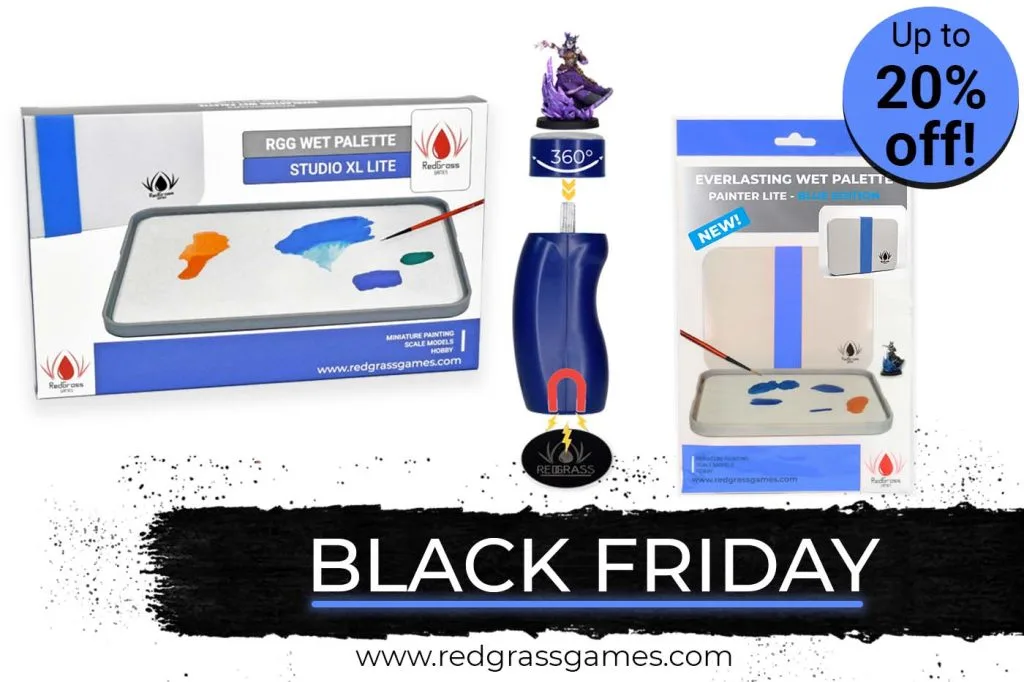 Red Grass Games are having a small sale on wet palettes and their new excelent miniature holder.
---
Jackson Art is running a Black Friday sale, so if you are in need of quality brushes this is the sale for you.
---
You can get a sitewide 15% off on Green Stuff World.
---
Hero Forge are having their standard $5 Off printed minis and cheap STL files.
---
If you are looking for some different colours than the usual stuff, you should check out Warcolours which is running af Black Friday Sale with 20% off everything.
---
Looking for gaming Mats? Frontline gaming got mats!
---

While I think the foam thing is outdated, Battlefoam does make some excellent magnetic carry cases that I use myself.
---
The Kane from A-Case is a super amazing carry case for your miniatures, but it looks like they are not doing any sale.