If you're anything like me, the painting of Warhammer miniatures is a massively time-consuming activity just as it is for any other table-top game, for that matter.
What's more, I find it's not exactly trivial to find the 'official' painting schemes, manage my paints so I have the ones I need when I need them and learn how to paint up certain models in the right way, in the right order (and remember 'how' later!)
To help with this, Games Workshop have provided an app for mobile devices called Citadel Colour. A couple of years back, they released one called Citadel Paint; the Citadel Colour app is the newer version of this. This is a citadel colour app review.
In this review, I'll take you through an in-depth look at the Citadel Colour app, its features and what's good and bad about it.
You'll get an idea of how the app can be used to manage your paint and model inventory, how to go about painting models and bases and to arrange everything into projects you're working on.
I'll also provide you with a map of the app so you can quickly find your way around.
Affiliate link disclosure

Age of Miniatures is a participant in the Amazon Services LLC Associates Program, an affiliate advertising program designed to provide a means for sites to earn advertising fees by advertising and linking to Amazon.com.

Affiliate links might occur on this page.

This site also participates in other affiliate programs and is compensated for referring traffic and business to these companies. Read more about our affiliate links here.
Where to get the Citadel Colour app
---
The Citadel Colour app is available for devices running iOS, Amazon and Android operating systems through their respective stores.
I'm on Android so grabbed that one, get the one that's right for you from one of these links:
A Quick Tour of the Citadel Colour App
---
Once installed, you'll see the app is split into a number of sections.
Interestingly (and slightly annoying), not all the content the sections link to are in the app itself —so make sure your device has an internet connection when using these.
Here's are quick overview of what sections are in the app and what they're about:
Paint by Colour: shows how to paint any colour in classic or contrast style.
Paint by Model: provides a searchable list of models that shows their colour scheme.
Citadel Colour System: links out to the Citadel Colour website.
Basing: shows a range of basing options and what paints are needed for each.
Advanced Guides: a range of guides with explainer and tutorial videos (needs Wi-Fi or mobile data connection).
My Projects: where you can save and organise models and colour schemes in lists.
Inventory & Wishlist: tracks what paints you have and which you need to buy.
Initial observations about the App
---
Within each section of the app, there's a lot of content, but to get to it you have to navigate through a few steps and remember where you are, assuming you stay on the app and don't get redirected to a website.
Oddly, Games Workshop don't provide guidance text to describe what each step is actually for or the sequence to go through, within each app section, to achieve some goal that you're meant to achieve by doing so.
In short, it can take a few attempts at using the app to get why sections exist, where they link to and why you're clicking on things at all!
Don't worry, I'll go through each section in detail in the article.
Clickable Icons everywhere…
---
As you use various sections of the app, you'll see there's a set of icons that can be clicked for reasons that generally only become apparent after you click them a few times and then discover later that another section, such as the Inventory & Wishlist, got populated because of your clicking.
Yes, some work to do on this app GW!
Before we dive in, let's have a quick rundown of what all the icons across the different sections are for:

Citadel Painting App Icons
| Icon | What is it for? | Where is it found? |
| --- | --- | --- |
| | Opens the camera on your phone. Images are stored on your phone, not the app. See the 'From Library' icon below. | Only shows on the app home page. |
| | Clicking this icon will add the paint shown to your Inventory list. If you have this paint in your collection, click it to record the fact. | Under each general colour of the 'Paint by Colour' and 'Paint by Model' sections. |
| | This will add a specific paint to your printable Wishlist. | Next to each specific paint colour of the 'Paint by Colour' and 'Paint by Model' sections. |
| | This icon adds either a colour to 'Colours' in your My Projects section or a model to the 'Models' section. | Under the 'What Shade?' section of 'Paint by Colour' and in the models list of 'Paint by Model'. |
| | This icon adds either a colour to 'Colours' in your My Projects section or a model to the 'Models' section. | Under the 'What Shade?' section of 'Paint by Colour' and in the models list of 'Paint by Model'. |
| | This icon adds a specific paint to your 'My Projects' section. | The 'Colours on this model' section of 'Paint by Model'. |
| | Allows you to search for a paint within the app. | In the 'Paint by Model' section and the 'Inventory & Wishlist' section. |
| | Clicking this opens a barcode scanner on your device so you can scan GW product barcodes. | This is located the 'Inventory & Wishlist' section. |
| | Clicking this icon allows you to export your Wishlist to a .pdf or to send it to a wireless printer. | This is located the 'Inventory & Wishlist' section |
| | This 'From Camera' icon opens your device's camera so you can take a photo of a model and have the app attempt to work out what paints match the colours of the model. | In the 'Choose a Colour' section of 'Paint by Colour' |
| | This 'From Library' icon opens your device's image gallery; then, the app attempts to work out if what Citadel paints matches the colours in the image. | In the 'Choose a Colour' section of 'Paint by Colour' |
App Sections in Detail
---
Now that you have an idea of what sections are in the app and what the icons you'll see around are used for, let's take a detailed look at each of the sections individually and what information and features they give you to help paint your models.
Paint by Colour
In this section, the focus is on painting schemes, irrespective of the type of model you'll be painting them with.

The first step in using this section is to 'Choose a Colour' and to select one of these, such as Red; then takes you to the next step where you'll be asked 'What Shade?'.
Here, you'll see a range of primary colour schemes, such as Infernal Red and Sanguine Red and also Faction Colours, such as Farsight Enclave Armour and Behemoth Flesh.
Next to each of the listed colours is the Classic and Contrast paint version of the colour shown painted on the central panel of a Space Marine's backpack (Hey, I thought it was a paint bottle top, but I play AoS, so I'm allowed that mistake!)
To the side of the painted example is the icon to add to the ´My Projects' section of the app, so you can build up colour schemes for your armies. You'll also see the icon for adding the paint to your Wishlist, in case you don't have the paint you need and want to build up a shopping list for later.
Combined, these are great features for managing your paints.
If you select either of the painted examples, you'll then be taken to the final part of this section which is a painting sequence showing how to achieve the Classic or Contrast colour scheme, either to a simpler Battle Ready state or to the slightly more complex Parade Ready scheme.
Issues and Observations for Paint by Colour
I found the painting plans took a bit of thinking about as, just like the painting plans in Paint by Model, it assumes you're knowledgeable of the sequence and techniques for painting base, shade, dry brush and layers with both classic and contrast paints.
These are painting plans —not step-by-step guides. Those sequences and techniques are possible to learn, as you can hit the Colour System webpage to learn more, although, if you're new to the hobby or have never painted a certain model before, it does seem a little overwhelming.
Also, as I explain below, trying to match colours to models using images on my phone just didn't work.
Here's what I did: I opened the Paint by Model section, took a screenshot of a Sequitor in my army and then used the 'From Library' icon to open the cropped image to see the colours the app would suggest.
The screen on my Huawei phone was entirely black; no image or paint suggestion came up. Maybe it's my phone? Try it and let us know what your experience was!
If you use the 'From Camera' icon and then hit 'tap on colour', it seems to work –somewhat.
The suggestions it brought back were not accurate at all.
I tried adjusting the lighting on the model, so it was very well lit, and chose different areas to get different colours, but still no luck. Again, maybe it was me, so do have a try and let us know how you get on.
So yeah, this function seems cool but maybe more of a gimmick really.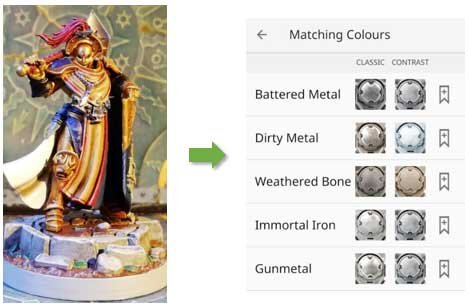 Talking of models, let's look at the next section, Paint by Model.
Paint by Model
As the name suggests, this section of the app focuses on what colours go on a model to achieve a standard colour scheme. It then presents you with a Classic or Contrast painting plan for applying them.
The first step is to find the model that you want to paint —there are lots of them!
If you're just browsing for models, you might choose to buy at a future date; in this case, general browsing might be OK, but I suggest you research what models are in what armies and to search for them directly.
The models can be found by name, not faction or alignment, so you'll really need to get the name of the model if you want to find it easily. To help out if just browsing, the models can be sorted in descending and ascending alphabetical order or by newest and oldest.
When you find the one you want, you can either select the ´Add to My Project´ icon to the right to add it to one of your project lists or select the image of the model to view the painting plan for it.
This works the same way as we saw in the Paint by Colour section. There's a sequence of steps provided with a list of paints shown to get either Battle Ready or Parade Ready.
Issues and Observations for Paint by Colour
There has been some comment in the Warhammer community that the app hasn't been updated with newer models in a while and, when I searched for some models, they didn't come up.
For example, I couldn't find Kharadron Overlords or Eldar Rangers in the app at all, and the only Skitarii I could find were the Rangers.
Where's the likes of Adeptus Mechanicus Skitarii, for example?
A lot of miniatures and armies missing is a big letdown. But again, this is not really that surprising. We see it quite often that GW abandons their digital tools after they have been released.
One other feature that held a lot of promise, but failed to deliver was the 'Colours on this model' feature.
I expected 'From Camera' or 'From Library' to be a little inaccurate, but I thought they'd be spot on when selecting colours on a model in the app.
For example, take the Ultramarine Razorback that is in the map above: when I selected the black colour, I expected to be shown the exact black used, however, it came back as Warm Black —this is not a paint—and it's not in the Paint by Colour section of the app either under ´Black´.
Turns out it's a shade or mix of black and other colours… Or is it?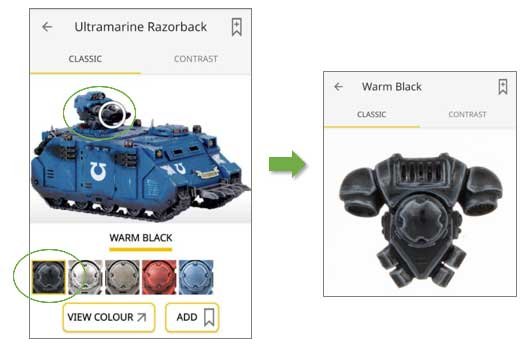 If you look back over the Paint by Colour section of the app, select Black and look at the Shades, you'll see a WORN black, but not WARM black!
If you search on the Games Workshop website for the Ultramarine Razorback model (it's shown as Space Marine Razorback on the site), this shade is just shown as Black and there's a difference in the mix of Worn Black and Black.
Come on GW, help us out with some consistency here!
Citadel Colour System
This section of the app is pretty straightforward as it's an external link to the comprehensive Citadel Colour System website.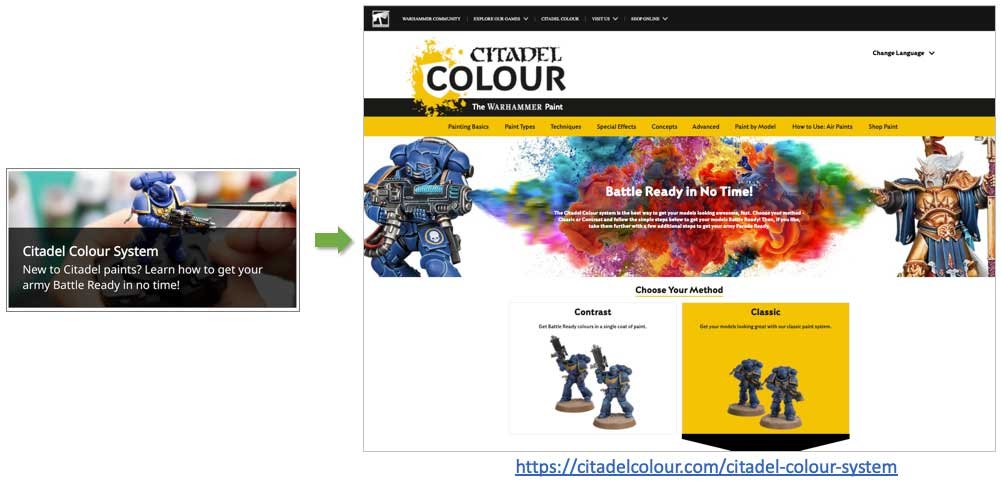 Painting Basics: describes brushes and brush care, thinning paints and using a Wet Palette, choosing colours and protecting models.
Paint Types: provides a good overview of the different types of paints such as Contrast, Base, Shade, Layer and Technical.
Techniques: shows you how to use the paints when Base coating, Shading and more.
Special Effects: ever wanted to paint blood or rust well? How about basing to get a mud or snow effect? This is the section for you!
Concepts: an interesting section showing ideas for painting Living Statues and Ghost Armies; these could prove a great addition to your army.
Advanced: a range of more complex techniques are shown here: how to paint tattoos, different skin tones and hair.
Paint by Model: broken down into Classic and Contrast, this section shows how to paint a selection of models. With 70+ videos in the Classic range alone, there's a lot to work through.
How to use Air Paints: it covers how to Basecoat, Shade and Highlight with an Airbrush.
Issues and Observations for Citadel Colour System
What's interesting about the app linking out to the website is that, except for the Air Paints section and the Shop for Paints link, it seems all the content there is exactly what is provided in the Advanced Guides section of the app.
Curious… I'll discuss that part of the app shortly.
Basing
No miniature is complete without some kind of great looking base.
In the Citadel Colours range, there's some fantastic basing paints that, when combined with other painting techniques, can really finish off the look of your army.
If you are interested to learn more about the citadel texture paints, we have a giant overview and review of them here.
As with other sections, the first thing to do is to choose the look you're after.
When selecting a type of finish for a base, you'll be presented with the painting plan, just like we saw in Paint by Colour and Paint by Model.
In addition, just like those sections, you can see what's in your inventory or add it to the Inventory and to your Wishlist if you need to buy it.
Issues and Observations for Basing
To be simple in what it covers, this section is actually pretty good and gives you everything you need to achieve the effects shown.
Of course, this section is only a painting plan, not a guide, so you'll need to make sure you're comfortable with the Shading and Dry brushing techniques to make them work on the base.
Advanced Guides
I'll keep it brief here as the punchline is that, if you've looked over the Citadel Colour System website, linked to it from the Citadel Colour System section of the app, and read about it earlier in this article, then you already know what's in this section.
What's great about this section is it provides a collection of short, informative videos via the app.
That's great for when you don't want to fire up your desktop or laptop and trawl through the website to find the content that's at your fingertips in the app.
Issues and Observations for Advanced Guides
Though I naturally didn't check all of the hundreds of videos one by one, it looks like this is exactly the same set of videos as on the website, which is fine, but just be aware these videos are not stored in the app or on your phone; if you're somewhere without mobile signal, unfortunately videos won't be shown.
My Projects
The My Projects section is built up from clicking various icons in other sections of the app.
Here, you'll have gathered the models and paint schemes that you've been interested in keeping a note of.
The first step to use this section is to select the bookmark icon next to the models and paints in Paint by Model and Paint by Colour.
As you do so, you'll be brought to the My Projects page and prompted to create a new project and give it a name. From then on, you can add more models or paints to an existing project or create additional projects.
Issues and Observations for My Projects
This section is straight forward to use and acts as a great reference.
The only issues are, as mentioned earlier, not all the models you might want to add are available in the Paint by Model section and, very often, you'll end up with a shade that requires several paints and not an individual paint you want.
Inventory & Wishlist
The Inventory and Wishlist section is entirely focused on the paints you have or might need to buy.
It doesn't contain lists of models or allows you to buy them via the app.
A good starting point to use the section that I'd recommend is to open it first and to press the Ticked paint pot icon for every paint you already have in your collection.
That way, when you go through the Model and Colour painting sections, you'll see what you already have. If you know what you need to buy, just tick the ´Star paint pot´ icon to add it to your Wishlist or, when looking over other sections, add it from there.
When you first open the section, it shows you a full list of all available paints in the GW range in alphabetical order.
You can sort them out by ascending or descending order; otherwise, you can hit Refine to filter them by paint type, such as Base or Spray, which is very handy as paint collections can grow large.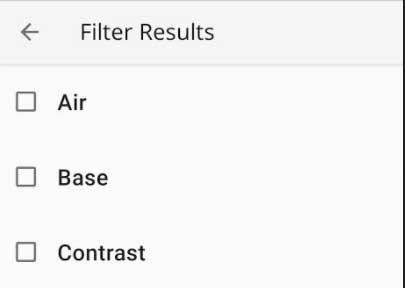 At the top part of this section, we have some very handy features. The first one is a search and, given there are hundreds of paints in the GW range, this is a simple but much needed feature!
Next to this is the Barcode Scanner to scan barcodes on paint pots; just click on the icon and a scanner will open on the screen that uses your device's camera to scan the barcodes on the back of the paint pots.
When it finds the paint, you get a pop-up that allows you to add it to your Inventory or Wishlist.
The last icon is one to export your Wishlist to a .pdf file or to send it straight to a wireless printer.
If you want to print the Wishlist, you'll need to set-up your wireless printer on your network and add it to the list in the app –—that's a bit beyond the scope of this article so I'll leave you to work that out yourself!— The alternate is to export the Wishlist to a .pdf file so you can keep it on your device or print it later on.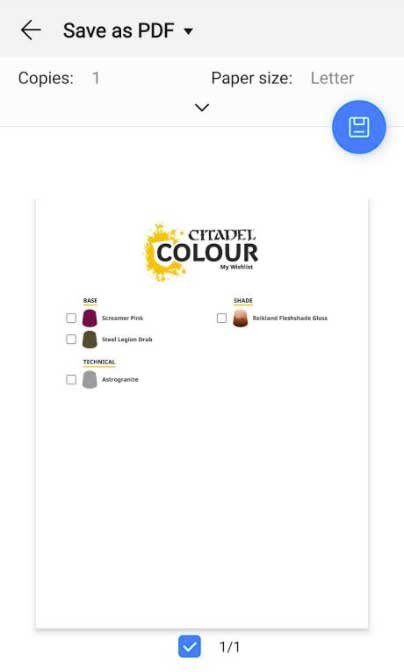 Issues and Observations for Inventory & Wishlist
Getting a scan of some paint pots was at times difficult to impossible: often, the barcode didn´t scan at all. On occasion, it did scan, but then, it didn't recognise the paint it was, even though searching through the 'All' part of this section showed it was in the list.
Conclusion and verdict
---
As we've seen, there's a lot of content in the citadel colour app.
Even with its shortcomings, this app is extremely useful to help discover models and paints, what the colour schemes are, to get access to tutorials on how to paint and to keep our paint collection in order.
Here's hoping GW sort out the inconsistencies and missing items!
Things I would like to see in the future:
The app solves some of my painting plan workflow, but I still need to use a note app to store my own painting recipes and plans. Ideally I need a space where I can write stuff myself.
As with all GW products it is citadel and GW stuff exclusively. While I really like the citadel paints, I also use and recommend other paint brands. I would much rather have one app where I could see all paints I have available, instead of using one app for citadel paints, one app for vallejo.
Because of this, I am sticking to the "PaintRack app" where I can have a digital browse of my (vast) paint collection.
All of that said, the Citadel Colour app is really amazing
Don't forget to download a copy of our Citadel Colour App Map for ease of reference and let us know your own views on the app via Twitter @AgeOfMiniatures.