A rundown on some of the Gloomspite Gitz Battalions
Have questions about battalions?
The Gloomspite Gitz battalions are quite interesting. It is clear that GW are really careful at pricing battalions, because they gave an extra artefact, command point and the ability to make your army very few drops so you are able to dictate who goes first.
This means that the battalions are not that powerful, but some of them will be worth your time anyway. I found this an okay balance: I never feel like I have to get a battalion in order to make an army, but I also feel like I get rewarded with something useful if I do get a battalion.
Skulkmob Horde is interesting because the requirements are easy to fulfil and the ability can be good. You need to have 3 or more units of Stabbas and Shootas and exactly 3 units of fanatics (can be both versions). In return, when you resummon units with the Loonshrine terrain, that unit will come back with the full amount of models. If you couple that with the artefact that gives you two chances per hero phase to resummon units, you are going all in on a horde resummon grot theme.
Squig Rider Stampede is nice if you want to play a load of squigs. It requires 2-3 units of Squig Hoppers/Boingrot Bounderz and 0-1 Mangler Squig. Now you can reroll the random move distance of the squigs. Too bad you cannot fill this up with more squigs, but GW might be nervous of the alpha strike potential.
Sadly, I think the Moonclan Skrap and the Squigalance (big battalions) are both traps. You are paying a lot of points to get a bonus when your units are under the Bad Moon's light. That said, pilling in 6″ for the Squigs can be really powerful as it brings a lot of tactical abilities. You get always strike first (your opponent cannot pile in before you do if you are not within 3″) and you can run out of combat and pile into something new.
The Gobbapalooza is a weird one. You have to take all five of the goblins or none at all and this is a battalion with those exact models in it. The bonus is a +1 on their casting or special ability rolls. Okay I guess.
Spider Rider Skitterswarm is good if you are going all in on spiders. +-1 Scuttleboss and 3+ Spiders riders (so you can load up on all the little spiders you need). In return, they get +2 move.
The Troggherd is the only Troggoth battalion. I think it is cool, but it might not be that good. 1 Dankhold Trogboss, 3-9 units of Fellwater/Rockgut and 0-2 Gargants. When you roll an unmodified wound roll of 6 in combat, you add +1 on the damage on that attack (still save roll as normal). Would be better as mortal wounds. How many times will this realistically trigger in a game?
So not massive buffs, but still cool abilities – and they might be worth it just for lowering your amount of drops, the extra artefact and command point.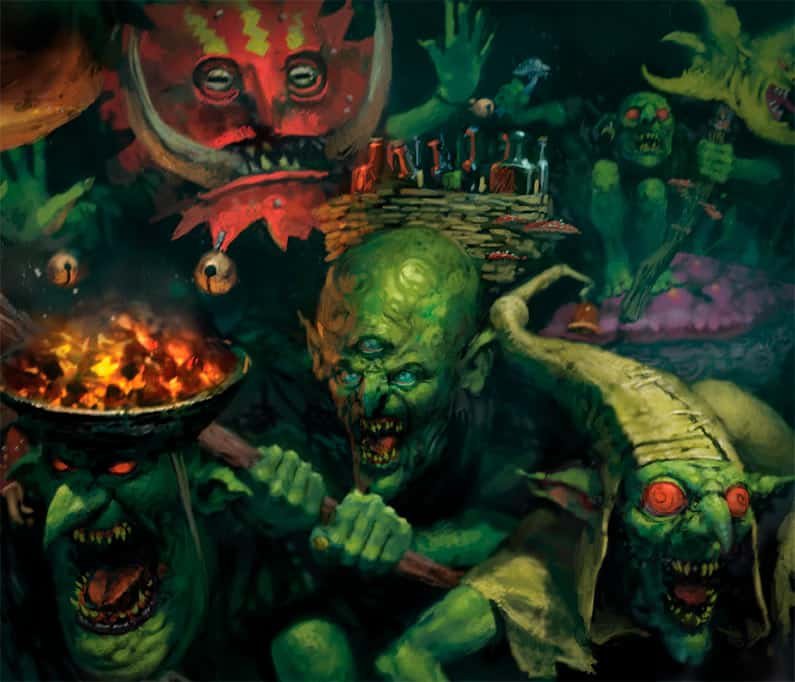 What is the Gloomspite Gitz playstyle and how do the sneaky gitz feel on the tabletop?
The Gitz army are made up of so many different units, it is quite bewildering. This means that you have the possibility of only collecting Gloomspite Gitz and make what feels like 3-4 different armies (mix of different stuff, all squig, all spider, all troggoth and hordes of grots)
Because of all the options, it is hard to say "the Gitz are this and that". They have slow movement, but also units that can go fast. They generally have weak armour, but also some tough units. Are generally weak in a straight up combat, but also units that can eat units for breakfast.
You have access to massive amounts of buffs and debuffs. Giving your own unit +2 attack and stacking -2 to hit on your opponent will not be out of the ordinary. This feels very sneaky and grot like (stab them in the back while they are blind!)

You have access to some shooting attacks, but the Gitz is not a shooting heavy army.

Access to two lores, faction endless spells, Malign Sorcery Endless spells, + on cast attempts and a host of great wizards makes the Gitz a prime candidate for a magic heavy army.
You have multiple ways of gaining extra command points.
Your bravery is weak. Hugging your terrain feature and spamming Inspiring Presence is the way to avoid losing your army to battleshock.
You have a ton of ways to deal mortal wounds

It is very possible that your opponent will underestimate your army because of the lowly grots. Take advantage of this! With the different crazy (and sometimes random) abilities of the Gitz, you can give every other army a run for its money.

You do have a few things that are random. It is important to embrace this random nature of the grots, or you might be in for a bad time.
Cool combos and fun Gloomspite Gitz tactics
Buff the Stabbas!:
The most obvious "combo" is to try and buff the lowly Moonclan Stabbas as much as you can. A few buffs come to mind:
Get 60 Stabbas
Buff with extra attack from the Sporesplattas
Buff with extra attack from the Sneaky Snufflers (or buff them more than once with the Snufflers if you dare). 3 Attacks per grot should be doable (more from the netters).
Command ability from a Loonboss on foot (unmodified wound rolls of 6 cause 1 mortal wound in addition to whatever damage they would otherwise deal).
Get the Bad Moon to shine on them (read: get lucky or get Skraggrot) so they can reroll hit rolls of 1.
The spiker from the Gobbapalooza can  give them reroll wounds rolls of 1
Debuff those pesky aelves!:
You have a huuuge arsenal of debuffs (and you can use it in conjunction with buffing your own dudes).
Itchy Nuisancee moonclan spell makes an enemy unit fight last.
Sneaky Distraction spiderfang spell subtracts 1 from hit rolls
Netters in Stabbas and Shootas units: -1 to hit
Artefacts that gives minus to hit
The Shroomancer can give -1 on hit rolls and -1 on save rolls
The Troggoth Hag spell subtracts 1 from hit rolls and 1 from save rolls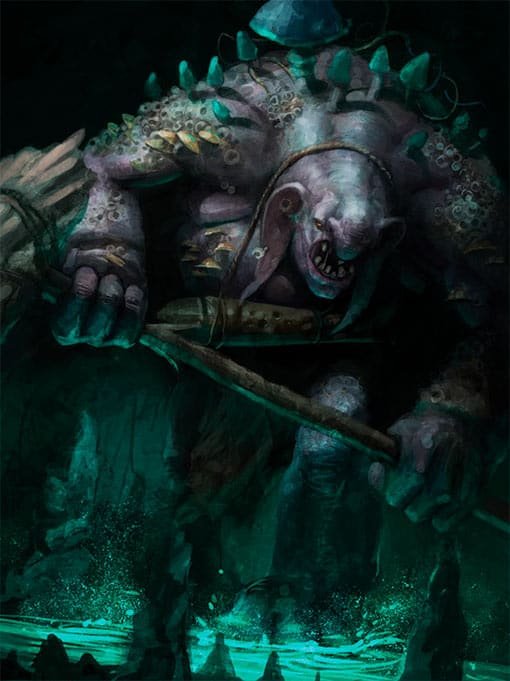 Cool interactions:
Because the Troggoth Hag is not an ally in Gloomspite Gitz, she can get an artefact (but not any of the ones from the Battletome). A -1 to hit extra on her is really good.
You can Hand Gork a unit of Stabbas up 9″ away from a juciy unit. In the charge phase you can pop out a 15 Loonsmasha Fanatics 3″ away from the Grots they where hiding in. Now the fanatics are 6″ away from the enemy and you make the charge. Say hello to 15d6 attacks with +4/+3/-2/d3 damage
You can use the Beastcaller's Bones (realm of Ghur Artefact) on the Dankhold Troggboss to make a monster hunter (he is big enough to kill monsters but does not have the monster keyword himself).
Speaking of the Dankhold Toggboss: because he does not have the monster keyword, he can get cover and the Look out Sir bonus.
The Troggboss can also become better in combat with the Mighty blow trait and the Ghyrstrike artefact (Ghyran artefact). His stat line will be 4 attack, +2/+2/-2/d6 damage that can be rerolled. Hulk smash!
If you are a really sneaky git, you can use the Scrapskuttle's Arachnacauldrons drawback (d3 mortal wounds) offensively.
Squig Hoppers deals mortal wounds to enemy units they jumps over. But remember that you can also retreat away from combat and deal damage while you are retreating.
The Loonboss on Mangler Squigs, The Arak with webspinner on it and the Troggoth Hagg all receive more than one bonus from the Bad Moon light (because they have more than one keyword that triggers an effect).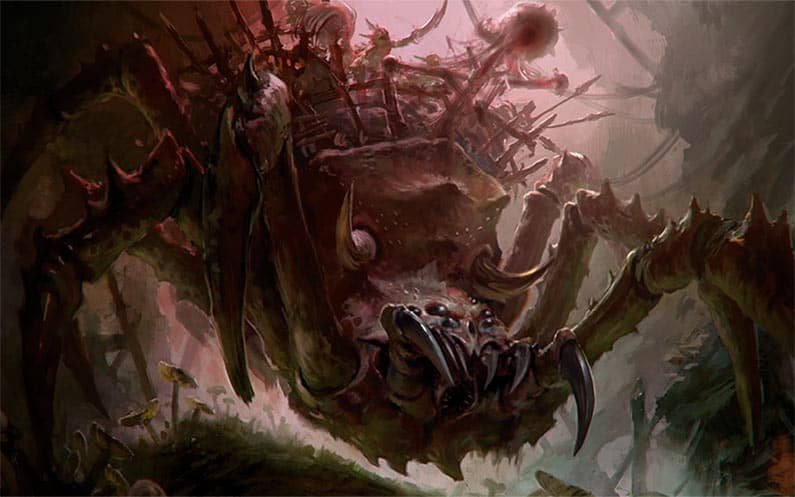 What books and supplements you need to play the Gloomspite Gitz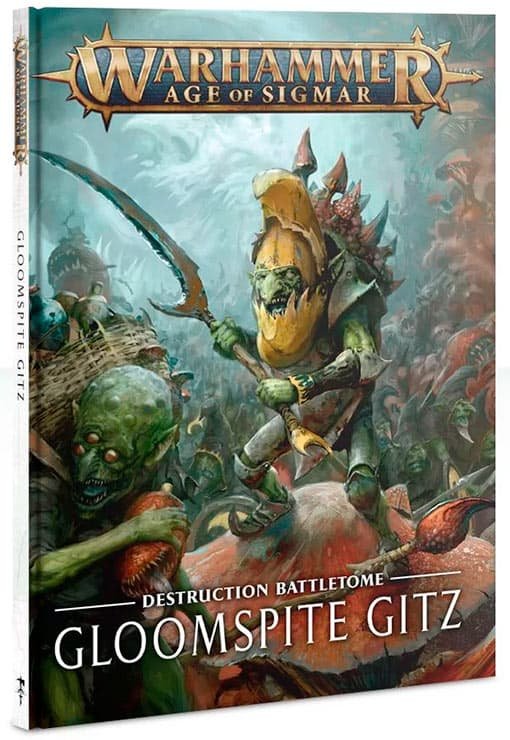 The Gloomspite Battletome is a must have to play this faction.
There are so many special rules in it that playing the Gitz without would be like playing a shadow if what they truly are. There is the 2-weeks-after-book-release Errata and some  but not much have changed with the warscroll.
As always you will need the latest General Handbook to see points changes.
We also list all of the points changes here (from new handbook and big FAQ updates).
You have strong capabilities in magic, so the Malign Sorcery endless spells could be useful. The artefacts in the battletome are strong, so you are not in dire need of the extra artefacts in Malign Sorcery.
The Forbidden power book and endless spells could come in handy, but it depends on the build your are running.
Because of the absurd number of Warscrolls, getting the printed Warscrolls cards would be good for most players (it gets tiring to flip through that many units in a book and the tokens are also great).
How up to date is the Gloomspite Gitz army?
 The Gloomspite Gitz are an Age of Sigmar second edition made army.
They have the newest style of rules, which means loads of extra abilities for staying mono faction.
They received a ton of new plastic kits, so updates are unlikely to happen again (maybe forever).
They are unlikely to have new models are updates coming anytime soon.
Is Gloomspite Gitz an expensive army to buy?
Because I collect everything Grot, I have decided to buy one of each new unit.
I have 1 million Stabbas (Night Goblins from the old Warhammer Fantasy set) and quite a lot of squig herds so it is possible for me to just sprinkle these new units in and have an army.
This was the cost of the preorder I wanted to make to get everything:
Battletome: £25
Endless Spells: £20
Bad Moon Loonshrine: £35
Skragrott the Loonking: £20
Gobbapalooza: £30
2x fanatics (one for each type of build): £50 in total
2x Mangler Squigs (a hero and non-hero version): £100
Dankhold Troggoth (a hero and non-hero version): £80
Rockgut Troggoths: £35
Loonboss: £15
Squig Herd: £27.5
Sneaky Snufflers: £25
2x Squig Hoppers (one for each version): £60
A total of £522.5! (of course, I could get it for about 20% via preorder on my favourite Warhammer e-store Element-Games)
Granted, that is everything released (with a copy of each build), but it is not really the smartest way of doing it.
I ended up cutting all of the trolls and landed on a more reasonable £357.5 (I, of course, got the Troggoths at a later date).
But all of this is just to say that if you are looking for something cheap, the Gloomspite Gitz are not it. It is a horde army and it will require quite a lot of money. Mainly because you will want to have all of the cool miniatures!
It is a very good idea to think about what units you will need to start your army (likely 500-1000 points) and what you will need to finish your army (2000 points – or just get one of each).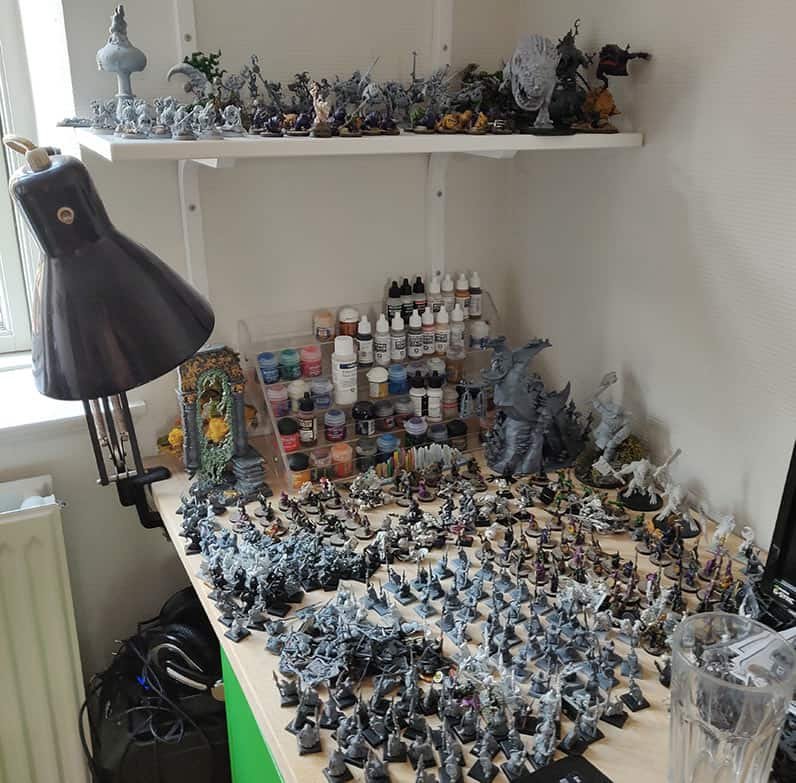 My ongoing massive Gloomspite Gitz army
What are the Allies available for the Gloomspite Gitz?
Wondering what allies are?
The Gitz can ally with:
Bonesplitterz
Gitmob Grots

Greenskinz
It is weird that the Grots lost the option to ally with Ironjawz. I wonder if that could signify an Ironjawz merger at a later date? It goes against the Grots and Orruks can ally and Ogors can ally with each other style we have seen earlier.
Some potential decent ally options:
It is hard to say what you would really ally in. Some warmachines from the Gitmob grots might be an option. The Gitmob Grots archers are also better than the Gitz version. There is not really a lot from the Greenskin range that would be of use (no Urrok keyword to use their command abilities).
The classic ally option of the Troll Hagg is a part of the Gitz, so no reason to ally her in. The Rogue Idol could be of use (+ bravery and +1 on cast).
This is not really relevant if you are going to play Gloomspite exclusively.
But, the Fungoid shaman can ally into all destruction factions. Because the endless spells are not limited to the faction but tied to the keyword of the wizard, you can bring in endless spells from the Gitz in any destruction army.
If you bring in the cauldron, he will have access to the whole Moonclan lore as well! Now start thinking about what kind of buffs that can bring to the other destruction factions!
Gloomspite Gitz Lists and Builds
The Gloomspite Gitz have a great assortment of sweet builds. They are not overly competetive, so do not expect to win 5/5 out tournaments.
I would suggest you take a look at some of the lists posted on Honest Wargamer or go check out the event coverage on AoS Shorts (where you will find lists from the latest tournaments around the world).
You can also follow the discussion on the TGA forum.
Pros of the Gloomspite Gitz faction
The Gloomspite Gitz have a massive range of miniatures and units to pick from. You can assemble your army in a lot of different ways, meaning this is a faction that can keep you occupied for a long, long time. It is basically 4 armies in one.
Very few restrictions with regards to how you can mix and match the different units. You will get rewarded for running units that can synergise on each other's keywords, but there are no hard restrictions (like some of the other merged factions).
The Gitz has a lot of depth in their special rules and how you can combine them.
The rules feel very sneaky, cunning and brutal. The perfect example of an army where the special rules really invoke the theme and flavour of the lore.
The debuffs feel insanely grot like and are at the same time really powerful.
Only a few units are simply bad/overcosted. A lot of the different units will be playable (unless you are going for a very competitive army).

The army has some "random-destruction-grot-rules", but GW has struck a very good balance.

If you like the lore of the old world, you will see plenty of references to old Warhammer Fantasy goblin lore.

You will have access to some very capable battleline units. In general, having good battlelines will make your army a lot stronger.

The gitz are just so damn fun to play. The c

ool and fresh abilities, like that the Mangler Squigs degrades and then goes back up in power again, will leave you wanting to play more and more.

The lore feels so much more grounded and well described than the other destruction factions
Cons of the Gloomspite Gitz Faction
The massive amounts of special rules can

 be confusing for new players.

It can be a bit weird what units can be affected by what abilities. You will have to look, and look again, to make sure that the ability affects the keyword that you think (and that the unit has that keyword).
Unpredicable things are never good for very competitive players, and the gitz does have some random stuff.
You will have a lot of models to paint! While they are definitely a joy to paint, you could burn out before you get even half done with your army.
The massive amount of models means that it would be wise to get some movement trays.
You will have to learn how to play your army fast if you want to compete in tournaments.
The style and theme can be a bit too goofy for some.
Overall verdict on the Gloomspite Gitz Faction
I can do nothing but recommend the Gloomspite Gitz, at least with the caveats described in the cons section.
For me, this is pinacle of what Age of Sigmar has to offer – both with regards to miniatures, lore and rules.
They are by far the most fleshed out destruction army we have, the most competitive, the one with access to the most different miniatures and the list goes on and on.
If your favourite faction is not the Gloomspite Gitz, I am sure you would want the "Gloomspite-Gitz-Treatment" for the army that you love the most.
Unless you want Orruks and Ogors, this is the destruction faction you should get.
Looking for more Age of Sigmar content?
This article is part of a series of guides and content for Age of Sigmar: